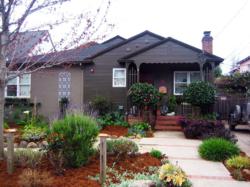 All indicators suggest that inflation will begin to rise by 2012, Could 2011 be the year to make a move?
Burlingame, CA (Vocus/PRWEB) April 23, 2011
Burlingame REALTOR® Mary Ann Teixeira compared the home sales data on the Peninsula for the first quarter 2011 (1Q2011) to first quarter 2010 (1Q2010), and says the last year has shown an improvement in the real estate market. Although MLSListings.com shows that the number of new listings has been steady, there has been an increase in home sales and a decrease in selling price. She has also seen an increase in sellers taking advantage of the quickened pace of transactions to sell their Peninsula homes in favor of getting excellent deals outside the Bay Area.
Teixeira says that the data from 1Q2011 compared to 1Q2010 for Millbrae, Burlingame, San Mateo, Belmont, and San Carlos indicates that the number of new listings on the market is about the same in both years. In 2011, 1,795 new listings came on the market in the first three months of the year, compared with 1,761 in same period in 2010. But there has been a 5% increase in the number of homes sold in 1Q2011, with 820 closed sales, as compared to 780 homes closed in 1Q2010.
"The most remarkable difference, and the difference that should capture the attention of any casual buyer, is the difference in pricing," said Teixeira. According to Teixeira, in 1Q2010 the median price for homes sold in the above-mentioned cities was $924,714. The median price for a sold home in 2011 dropped to $877,869. "Taking into consideration that 30 year mortgages are averaging near 5%, and that all indicators suggest that inflation will begin to rise by 2012, could 2011 be the year to make a move?" she asks.
With current interest rates so low, the pool of potential buyers in the Peninsula Area increased and made homes available to a larger buying audience. As a Bay Area REALTOR®, Teixeira knows the houses are selling, and they are moving into contract quickly as long as the home is priced well and in good condition.
She is quick to add that while this market is great for buying a home, it is not bad news for sellers. Teixeira believes that sellers waiting for the market to correct itself before selling need to look at the entire picture. The key, says Teixeira, is that any seller who wants to sell and move on quickly needs to take advantage of their buying power with their next purchase, and they need to approach the selling and buying strategy as a continuous project.
Teixeira works with a number of clients who are nearing retirement age and starting to look outside the Bay Area, mostly in places north or east of San Francisco, for a place to settle down when they stop working. "There are fantastic values in these areas and often their Bay Area home sales will allow them to pay off what remaining mortgage they have and still purchase their new home for cash," said Teixeira, adding that her clients that are still in their wage-earning years are finding that securing a small loan with great interest rates enables them to minimize their mortgage payments.
Teixeira knows this works because within the past two months she's sold two homes, both in less than 10 days. They can be seen on her website at http://www.MaryAnnT.com.
For additional information about changes in the Bay Area real estate market, or any services available from Mary Ann Teixeira, call her at (650) 241-0318 or visit her website at http://www.maryannt.com.
About Mary Ann Teixeira
Mary Ann Teixeira is a licensed REALTOR® with McGuire Real Estate in Burlingame, California who specializes in relocation services, homes for sale, and luxury homes. She is a seasoned buyer's agent who serves the San Francisco Bay Area Peninsula communities of Atherton, Burlingame, Cupertino, Hillsborough, Los Altos, Los Altos Hills, Los Gatos, Menlo Park, Mountain View, Palo Alto, Portola Valley, Redwood City, San Carlos, San Jose, San Mateo, Santa Clara, and Woodside.
# # #