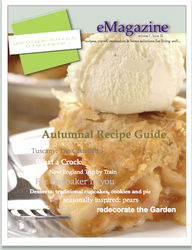 The reader response from the summer premier issue has been outstanding; reaching a global readership from more than 25 countries
New York, NY (PRWEB) October 2, 2008
George Hirsch Lifestyle eMagazine, a 5x per year publication geared towards men and women, who want the most out of everyday living, launches Fall issue today and is available at georgehirschliving.com.
Just in time for the Fall season, the eMagazine is based on George's informative and entertaining lifestyle TV show 'George Hirsch Living It Up'. 'George Hirsch Lifestyle' is filled with George's helpful home solutions, savory easy to prepare recipes, travel tips to world-class locations, shopping and gift guides and a wide range of recreational activities. The interactive digital edition features are delivered in an engaging format for the reader's convenience and pleasure. Also, including George Hirsch iTunes Video Podcasts. The Hirsch Productions Publication is available for free subscription at georgehirschliving.com.
'George Hirsch Lifestyle' is a timeless how to source for the family's lifestyle needs. George's inspiring ideas, coupled with his easy savory recipes makes this a unique guide for fall planning. Readers will be inspired whether planning day trips & picnics, daily home menus or entertaining at home. This issue includes dozens of George's autumn inspired recipes from easy to prepare soups to simple and comforting desserts. In the recipe section you will find answers to challenging cooking and baking questions. Readers will also find informative how to sections on travel, garden, home and shopping.
Highlights of this issue include:

Your Interactive Guide to Fall Foliage
Top Ten College Tailgate: Locations & Recipes
Garden Redecorate: Plant Now For Spring
Road Trip: Travel to New England
Good Stuff: A Movie, a Book and Chianti
Baking: Bundt, Cupcakes & Pie
Go Slow in the Kitchen & Many Other Recipes
Living Well Inspiration and So Much More. . .
Grab a glass of Chianti and spend a cozy autumn evening with 'George's Book Pick' written by 'Law & Order's' Michael Tucker. And, need to know how to prepare an eight hour time intensive dinner and have it ready as soon as you arrive home? George has you covered. Even if you do not own a slow cooker, he will guide you along.
Chef George Hirsch's Slow Cooker Italian Pot Roast
Makes 8 servings
4 pounds beef chuck roast
1 each onion and celery, chopped
6 cloves garlic, peeled and chopped
3 carrots, chopped
2 cups San Marzano Plum Tomatoes, crushed with juice
6 ounces tomato paste
2 teaspoons each, basil, oregano, thyme
1/2 cup red wine
2 bay leaves
1 teaspoon sea salt, fresh ground black pepper
3 potatoes, peeled and cubed
Pre heat a pan, add a little olive oil and sear meat on all sides. If the slow cooker has a sear option use directions for browning. Add all remaining ingredients to the slow cooker. Cover and cook on low setting for 8 to 10 hours until fork tender. Serve with a side of pasta.
Hirsch's easy-no-fuss style and positive living well nature colors each issue. "The reader response from the summer premier issue has been outstanding; reaching a global readership from more than 25 countries," he said. "Through 'George Hirsch Lifestyle' I can provide detailed lifestyle articles just one click away by presenting features on experiencing a better life, whether at home or traveling. Readers can also watch my TV segments at their convenience while at home or on-the-go with our interactive digital format."
Created and published by Hirsch Productions Publications, each issue contains extensive lifestyle features such as seasonal recipes from Chef George's Kitchen, garden tips, travel features and home solutions for living well. This interactive digital edition of George Hirsch Lifestyle eMagazine Fall Issue is Carbon Neutral, green friendly. For additional information and for viewing convenience, Subscribe to future free issues of George Hirsch Lifestyle eMagazine.
To schedule an interview with Lifestyle Expert, George Hirsch.
About Lifestyle Expert, George Hirsch, CEC, CCE, AAC. George Hirsch is the host of the syndicated and PBS television series 'George Hirsch Living it Up'. In Fall 2008 George Hirsch Living it UP released it's fifth season in syndication. The TV series highlights food, travel, recreation and home. As a five-time cooking and lifestyle author, Chef George Hirsch has reached a global audience through U.S. Syndication, his nine previous PBS series airing for more than a decade. He regularly appears on Live with Regis & Kelly along with other news programs.
###