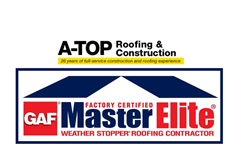 "As GAF Master Elite Roofing Contractors, A-Top promises to handle the project expertly, performing all of the necessary work correctly the first time." - Andrew Ferrara, President, A-Top Roofing and Construction
Manalapan, NJ (PRWEB) June 08, 2016
A-Top Roofing and Construction (http://www.qualityroofernj.com) of Manalapan, New Jersey, is proud to announce GAF Master Elite Roofing Contractor Status, placing them in the top three percent of all roofing contractors in the country. As GAF Master Elite Roofing Contractors, A-Top Roofing and Construction meets multiple criteria including state licensing, appropriate insurance coverage, a proven reputation, and a commitment to ongoing professional training.
Meeting GAF's standards ensures A-Top's customers receive quality products and services, delivered honestly and on-time by well-qualified professional contractors which is exactly what they deserve.
"Over the years, we have grown with our community, and we continue setting the standard for reliable installations and rooftop repairs. We are dedicated to providing all clients in the scenic central New Jersey area with high quality work, no matter the size or the specifications of the job." – Andrew Ferrara, President, A-Top Roofing and Construction
Serving greater central New Jersey, including Howell, Freehold, Marlboro, and Manalapan, A-Top promises each and every customer unparalleled quality, and incredible service, at competitive pricing, a fact to which the GAF Master Elite Roofing Contractor status attests. In addition, A-Top Roofing has been awarded the Master Elite Consumer Protection Excellence award for 12 consecutive years, as well as the Angie's List Superior Service Award, and an A rating from the Better Business Bureau.
In addition to outstanding roofing services, A-Top Roofing and Construction is also known for excellence in siding installation and repair, window replacement, and mold and water damage inspections and remediation.
A-Top Roofing and Construction was founded in 1989 with the goal to provide unparalleled roofing services, as the company has grown, the goal has not changed and the company continues to set the standard in premium quality workmanship across central New Jersey regardless of the size of the project. Each project is undertaken with care, by A-Top's team of licensed, certified professionals, guaranteed quality and service backed by A-Top's exceptional guarantee.
About A-Top Roofing and Construction:
A-Top Roofing and Construction has been serving the central New Jersey area for 27 years, delivering the highest quality craftsmanship with exceptional service at the hands of skilled, certified professional crews. Over the years, the A-Top has earned a well-deserved reputation for premium products and services, expanding roofing services to include siding repair, replacement, and installation, as well as window replacement and installation and mold and water damage repair.
A-Top Roofing & Construction, 77 Pension Road, Manalapan, NJ 07726 Phone: (732) 446-6341