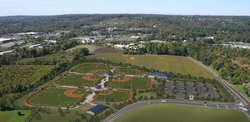 Diamond Nation is the start of a new era of baseball. Serious athletes looking to take their game to the next level now have a state-of-the-art facility, delivering a playing experience like no other
Cheektowaga, NY (Vocus) April 21, 2009
A-Turf, a synthetic turf field builder announces the installation of six new playing fields is underway at Diamond Nation, the nation's premier baseball and softball tournament and training facility in Flemington, New Jersey.
Spanning 65-acres, Diamond Nation will play home to the nationally renowned Jack Cust Baseball Academy, as well as the new Jennie Finch Softball Academy. Billed as a one-of-kind sports complex, Diamond Nation features six exclusive A-Turf® synthetic grass baseball and softball fields. Of the six new fields, four are 90' fields at about 107,000 sq. ft., and two are 50' to 70' fields at approximately 45,000 sq. ft. The new fields join a seventh existing synthetic turf baseball field for a total of nearly 700,000 sq. ft. of all-weather, synthetic turf.
Each of the 90' baseball fields is designed with the unique ability to be converted in to two little league size fields, each with its own backstop, dugouts and bullpens. This feature gives the complex the ability to play up to 12 games simultaneously and the versatility to have both baseball and softball games. All fields are expected to be competed and ready for play this summer.
Each A-Turf field is engineered specifically for the unique demands of baseball and softball - delivering consistent ball bounce and roll. Designed with a slight reduction in fiber pile height and a modest increase in the weight of sand in the rubber & sand infill
mix, the Diamond Nation fields replicate the best characteristics of natural grass while providing optimal play in any weather conditions - including during and immediately following heavy rains.
"Diamond Nation is the start of a new era of baseball. Serious athletes looking to take their game to the next level now have a state-of-the-art facility, delivering a playing experience like no other," says Jack Cust, of the Oakland A's and founder of the Jack Cust Baseball Academy.
From the new A-Turf fields to the indoor training facility, Diamond Nation will cater to competitive tournaments for athletes of all ages, as well as offering one-on-one training with top coaches and instructors.
"Having a hand in creating a truly unique baseball and softball experience is what A-Turf is all about," explains Jim Dobmeier, A-Turf founder and president. "As a baseball player a coach, and most importantly as the company behind the Diamond Nation fields, my days are spent raising the level of play and giving athletes the opportunity to succeed."
The six new A-Turf fields are also environmentally friendly. Made from recycled materials, the fields eliminate the need for watering, mowing and the use of chemicals and fertilizers to keep the surface at ideal playing condition.
A-Turf and sister company, Surface America®, are headquartered in Cheektowaga, NY. A-Turf sets the standard in the synthetic grass industry, creating and installing athletic surfaces for colleges, universities, schools, and park districts across the nation. Surface America is recognized as the playground surfacing leader, developing and installing surfacing systems for playgrounds, as well as trails & pathways, gymnasiums, fitness facilities and specialty areas. For more information visit http://www.aturf.com or http://www.SurfaceAmerica.com
Media Contact:
Hope Banner
Scheffey Integrated Marketing
hbanner(at)scheffey.com
717-569-8274
###