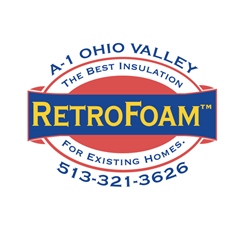 Cincinnati, OH (PRWEB) January 13, 2015
The Polar Vortex, as it's been called in recent years, is a naturally occurring phenomena where there is almost always a huge, rotating body of cold air swirling at either pole of the Earth. Recently though, unexpected warming events have caused the vortex over the North Pole to become irregular and shift its course outside its standard parameters in the Arctic. As a result, incredibly cold temperatures have been hitting the Cincinnati area and the rest of North America sometimes for weeks at a time in recent years. A-1 Ohio Valley RetroFoam closely tracks these events having learned from experience the profound effects they can have on people's homes.
What seems like just an irritating winter draft in a kitchen or bathroom can pose a major risk to a home's integrity during a polar vortex. Without proper insulation homeowners are guaranteed to waste energy just trying to keep their living spaces above freezing. During a polar vortex, temperatures can quickly drop below zero which can overtax a home's heating system. If uninsulated pipes are exposed to these rapid temperature changes for even a few hours the water inside them can expand causing a rupture; dumping gallons of water into the most vulnerable areas of a home's infrastructure. Drafts in attics or crawl spaces can be difficult to find so A-1 Ohio Valley RetroFoam recommends that Cincinnati residents consult them to conduct an inspection before the next polar vortex hits.
Older homes and buildings are at particular risk from a polar vortex because old-fashion wall insulation tends to collapse over time under its own weight. When it becomes compacted, insulation is much less effective and can leave large areas inside a wall exposed to the elements. If a water pipe runs through those areas the chances of a rupture increase dramatically. A-1 Ohio Valley RetroFoam uses modern insulation to completely fill the area where it is applied and doesn't collapse over time. It also lasts for much longer making it a good investment for homeowners planning to sell their home in the long term.
A-1 Ohio Valley RetroFoam specializes in insulation projects that account for energy efficiency throughout an entire building. They have the various materials and equipment to supply a roof-to-foundation insulation assessment that will help save homeowners money on their heating bills and prevent the necessity of costly repairs due to frozen pipes or other weather damage.
Ed Wasinger, owner and operator of A-1 Ohio Valley RetroFoam in Cincinnati, OH, recommends that families take every precaution to prevent home damage from cold weather and also prepare themselves in how to respond if damage does occur. For example, Ed suggests that all members of a family unit know how to turn off the water to their home in case a pipe does freeze. Installing leak detectors in basements is also an inexpensive and practical safety precaution.
Cincinnati residents should also take the time to discuss with their neighbors how to respond in an emergency. Sudden deep snows brought on by a polar vortex can quickly melt when the weather system moves off creating a flooding danger in so it's always best to be prepared with a household and even neighborhood evacuation plan. With a little prevention work Cincinnati area residents can insulate their families and homes against risk when the next polar vortex comes to visit.
A-1 Ohio Valley RetroFoam is a full-service insulation contractor. They offer a low spray foam insulation cost, fiberglass insulation and cellulose insulation, plus more for energy conservation in homes and offices in Oxford, Hamilton, West Chester, Milford, and other areas surrounding Cincinnati, OH.
They also offer insulation services in Covington, KY, Newport, KY, Florence, KY, Lawrenceburg, IN, and Aurora, IN. For more information or to receive a free energy consultation, call them by phone at (513) 364-6665 or by email at info@insulationbya1.com today!