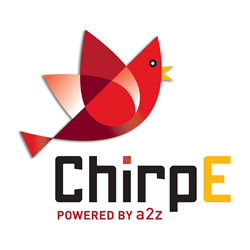 ChirpE 365 pushes the envelope by facilitating continuous conversation with audiences through an always-accessible mobile application.
Columbia, MD (PRWEB) May 09, 2014
The US-based developer of the most widely used event management software in North America, a2z, Inc., will be showcasing its award-winning ChirpE Mobile and Social Marketing Solutions in Stand C720 at IMEX 2014 in Frankfurt, Germany between 20 – 22 May 2014.
The ChirpE Mobile & Social Media solutions allow exhibition and meeting organizers to easily deploy the latest information and updates about their events on a large variety of media, devices and platforms to accelerate audience acquisition and provide enhanced value to exhibitors and sponsors.
Launched in 2009, and winner of the Trade Show Executive Innovation Award, the ChirpE solutions have contributed to the continuing success of many leading exhibitions and conventions across the globe including AAPEX, IAAPA, IFT, AND NADA.
The ChirpE portfolio includes the following solutions:

ChirpE Mobile Event App
ChirpE 365 Mobile App
ChirpE iPad Kiosk
ChirpE MEGA Kiosk
ChirpE Photo Booth
ChirpE Attendee Acquisition Widget
a2z's ChirpE solutions have won a number of awards recently, including the 2014 Internet Advertising Competition Award for the Best Event Mobile App category and Expo Magazine's Digital Excellence Award in the Best Tradeshow-Marketing Technology Solution category.
"The tremendous success of our ChirpE solutions for trade shows and conventions inspired us to create a completely one-of-its-kind mobile solution that goes above and beyond an event centric app by simplifying dissemination of content across multiple events", said Rajiv Jain, the CEO of a2z. "ChirpE 365 pushes the envelope by facilitating continuous conversation with audiences through an always-accessible mobile application."
To learn about how ChirpE uses the power of superior technology and connected networks to deliver all round success to event organizers, exhibitors and attendees, visit Stand C720 and make an appointment with Omar Kechrid, Sales Director.
About a2z
a2z, Inc. is the producer of the cloud-based ChirpE Mobile & Social Marketing solutions that are used by hundreds of thousands of event participants in North America. a2z, Inc. powers more than 850 leading events every year. a2z's solutions are used by more events on the 2013 Trade Show Executive Gold 100 list than any other exposition and conference management software provider in the industry.
About IMEX
IMEX 2014 is the show that innovates, inspires, and presents new opportunities for the global meetings industry. In the heart of one of the world's largest outbound meetings markets, IMEX 2014 is a hub of energy on the show floor. IMEX 2014 isn't just about doing business; it's about building it and your career to greater things.