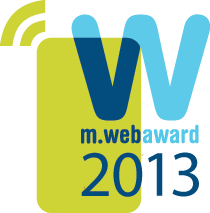 "Our show's mobile app just keeps getting better and better." - NADA
Columbia, MD (PRWEB) December 11, 2014
a2z, Inc., the Maryland-based provider of leading web and mobile solutions for expositions and conferences, announces that its ChirpE-powered mobile app solution for NADA 2014 has been awarded the Internet Advertising Competition MobileWebAward. The NADA/ATD Convention & Expo 2014 app has been recognized as the Best Mobile Application leveraged by an association.
This is the second time that NADA's ChirpE Mobile Event App has been awarded the IAC Award. Earlier this year, the solution was awarded the 2014 IAC Award for Outstanding Achievement in Internet Advertising.
Each year the Web Marketing Association's IAC MobileWebAward Competition names the Best Mobile Applications. The winners are selected by judging the entered creative using seven criteria - design, ease of use, copywriting, interactivity, use of technology, innovation and content.
According to the post-show review analysis compiled by a2z, a whopping 93% of the 2014 NADA/ATD attendees (based on the number of people reached via pre-show email promotion campaign), accessed and utilized the event's mobile app to plan ahead and maximize their time at the event.
About a2z, Inc.
a2z provides powerful cloud-based event management and marketing tools to help grow an event's brand by accelerating booth sales, helping boost revenue, and enhancing engagement and value for event participants. a2z's web and mobile solutions are used by more than 850 leading trade shows and conferences across the globe every year.