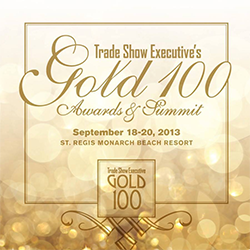 'We liked the fact that a2z already had all of the exhibitor data. When exhibitors or attendees make changes, the app automatically updates. Not having to update the data in more than one place makes error rates extremely low.' — VP of Administration, PMMI
Columbia, MD (PRWEB) October 22, 2013
Along with powering more events than any other software solution provider in the Trade Show Executive's 2013 Gold 100 list, a2z, Inc. also has the distinction of powering 42% of the top 50 expositions, the ranking for which was announced on September 19, 2013 at the TSE Gold Gala Summit.
"It is a privilege to support a substantial number of the leading trade shows and expos in North America," said Rajiv Jain, CEO of a2z, Inc. "Our clients appreciate us for consistently providing top quality products. We continue to innovate and improve to ensure that they can grow exponentially every year."
Click here to view the complete list of TSE Gold 100 Honorees.
About a2z
a2z, Inc. provides powerful web-based event management tools that grow your show by increasing and accelerating booth sales, helping boost revenue, and enhancing engagement and value for everyone. The a2z system integrates seamlessly with clients' AMS, CRM, and financial databases, significantly decreasing the amount of man hours and manual processes required. Our clients also benefit from increased connectivity with their audience via an improved website for their attendees and exhibitors and both web-based and native mobile app solutions. To fulfill our goal of developing quality solutions that help save money and meet your needs, a2z offers three platforms as one integrated solution: Expo & Conference Management, Networking & Lead Management, and ChirpE Mobile- which includes our web-based and native mobile apps for smartphone and tablet devices.