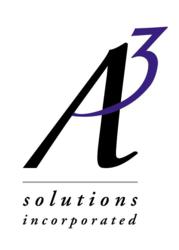 Partnering with A3is an obvious choice for us.
San Francisco, CA (PRWEB) July 25, 2011
A3 Solutions, Inc. today announced a strategic partnership with BRIGHTRIZE, to bring A3 Modeling, the company's leading web-based platform for Enterprise Budgeting and Corporate Performance Management (CPM), to small and midsize businesses. Under the agreement, BRIGHTRIZE has expanded its managed HR, Financial and IT services to include BRIGHTanalytics, a subscription-based Budgeting, Management Reporting, KPI Dashboards and Analytics solution for their clients.
"It is a testament to our flexibility and versatility that BRIGTHRIZE has chosen A3 Modeling," said Rob Lautt, Founder and CEO of A3 Solutions. "BRIGHTRIZE' unique combination of domain expertise, integrated IT, HR, and Financial services offering, and SaaS hosting environment has opened up a market for CPM that A3 Solutions could not otherwise address."
"Partnering with A3is an obvious choice for us." said Richard Winter Founder and CEO of BRIGHTRIZE. "The ability to offer our clients a CPM solution as part of our SMB toolkit for Business Planning will provide an unparalleled level of sophistication in the small and midsize business arena. Small and midsize businesses desperately need these capabilities to effectively manage and grow their businesses; and now, through this partnership, BRIGHTRIZE's tailored systems can be attained economically."
About BRIGHTRIZE
BRIGHTRIZE offers administrative services to the SMB community fashioned to provide management information systems and processes rivaling those found at Fortune 1000 enterprises at affordable costs. Our managed services envelop all aspects of Accounting, Human Resources and Information Technology. BRIGHTRIZE's solutions enable our clients to focus their valuable time and creative resources on building their products or services and increasing revenues, not bogged down with administrative activities.
To learn more about our "Established Service Center Alliance" and unique Business Process offerings that together empower the SMB owner to achieve more than they ever believed, visit http://www.brightrize.com or call 201-221-3017.
About A3 Solutions and A3 Customers
A3 Solutions is the developer of A3 Modeling 2011, the leading spreadsheet automation platform for web-based Enterprise Budgeting and Corporate Performance Management solutions. More flexible, with a lower total cost of ownership (TCO) than competing products, A3 Modeling 2011 is available as software-as-a-service (SaaS) and on-premise offerings that tightly integrate with leading enterprise OLAP and relational database technology from Oracle/Hyperion and Microsoft.
To find out how American Airlines, Avon, Cox Communications, McDonald's, Safeway, Toyota, Williams Sonoma, Verizon, and other Fortune 1000 enterprises use A3 Modeling 2011 to align their organizations, accelerate decision making, and turn strategy into action, visit http://www.a3solutions.com or call 415-356-2300.
Take the A3 Challenge!
The best way to experience A3 Modeling 2011 is with a hands-on model derived from your own spreadsheet models and data. To arrange a no-cost, no-obligation, hands-on experience, customized with your models and your data, call 415-356-2300.
Customer Inquiries
Ray Wolf
A3 Solutions, Inc.
+1.512.506.1759
rwolf(at)a3solutions(dot)com
###