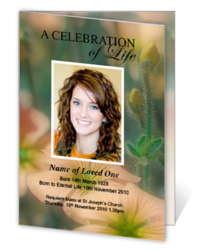 Our designs have always set us apart from our competition.
San Francisco, CA (PRWEB) September 19, 2012
The Funeral Program Site has been creating easy to use templates for over a decade mainly servicing the death care industry. Since opening their products to families directly in 2008, this company has quickly become the number one resource for bereaved families and funeral homes alike.
It is easy to see why so many families are trusting this online U.S. based company, as clearly the website offers the largest selection of designs and layout available today. Recently launched are the A4 program templates geared specifically for demands as requested from the UK, Australia, and abroad.
The A4 size templates enable all visitors who are currently on the metric system to download a precreated and predesigned template especially for use in a funeral or memorial service. "It has been a pleasure to service our UK and AU families with designs that have been so well received in these countries. We are continuing to expand our line of A4 templates to meet the demands of our faithful customers", reports Dave a team member at The Funeral Program Site.
"It has never been a problem for us to service companies and families outside the United States. We have staff who respond quickly to any inquiries that come in and our customers are always appreciative of our timely emails or phone calls. We plan on continuing our expansion of metric system style order of service sheets to meet our current customer demands for all our layouts", states Carole Galassi, CEO and founder.
The template A4 expansion designs include floral, waterscape, spiritual, simple, hobby, and contemporary themes. Each of the A4 template styles offer a front, back and coordinating inside design for a complete presentation. "Our designs have always set us apart from our competition. We create each background meticulously and put our templates through a rigorous testing before offering them to the general public", continues Galassi.
The website not only provides templates but also many memorial keepsake items such as a plantable seed collection of products, gifts, memorial plaques, and pet memorial items. "It's great to be able to shop for everything I need all in one place. I don't have time to check every website for gifts and its very convenient to be able to also find such quality merchandise at this website. If you haven't saved it to your favorites, I highly recommend it because you'll be coming back again and again", testifies John, a repeat customer and small business owner.
New designs are being added every week for the A4 template lines as well as the remaining dozen layouts. This is a great way to cut costs and save during any funeral planning or arrangement process. To find this valuable resource, search online for The Funeral Program Site.