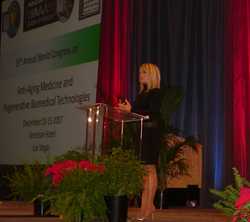 London, UK (PRWEB) December 21, 2007
A record-setting 5,500 delegates and corporate leaders participated in the world's premier scientific conference on topics relating to medical interventions to prevent and treat the diseases and disabilities associated with the biological process of aging. Co-sponsored by The American Academy of Anti-Aging Medicine, the world's largest professional medical society dedicated to advancing research and clinical pursuits that enhance the quality, and extend the quantity, of the human lifespan, the Winter 2007 Session of the 15th Annual International Congress on Anti-Aging Medicine & Regenerative Biomedical Technologies took place December 10-15, 2007 at The Venetian Resort Hotel Casino in Las Vegas, Nevada USA.
As the largest event of its kind in the arena of human longevity, the Annual World Congress on Anti-Aging & Regenerative Biomedical Technologies is renowned around the world for the high caliber of speakers, delegates and international government officials in attendance. Thousands of the world's leading physicians and scientists representing 70 countries gathered to learn the latest advancements in preventive medicine and emerging biomedical technologies.
Popular television and movie actress Ms. Suzanne Somers spoke on the subject of bioidentical hormone replacement therapy for the alleviation of menopause. Observes Ronald Klatz, MD, DO, A4M President: "Ms. Somers is a vibrant representation of the successes of anti-aging medicine. Hers is a very powerful and personal story of how anti-aging medicine has helped improve all aspects in her quality of life." Adds Robert Goldman, MD, PhD, DO, FAASP, A4M Chairman: "Ms. Somers' presentation served to motivate our audience to further excel in their clinical and research efforts to advance innovative diagnostics, therapeutics and interventions to promote the healthy human lifespan."
Congressman Ron Paul, MD (R-Texas) shared his provocative insights regarding the overexpansive breadth of the government's role in health and medicine today. His message of the restoration of personal healthcare freedoms received a standing ovation from the audience.
In addition, more than 100 speakers, many of whom are world-renowned in their area of specialization, spoke on a broad array of topics in aging intervention, including:

In "New Updates in Stem Cell Research," Michael Klentze, MD, PhD, Guest Professor at University Cattolica (Rome, Italy), shared the latest advancements in stem cell therapies for aging-related diseases and disorders
Mark Gordon, MD, Associate Clinical Professor at University of Southern California and University of California-Los Angeles, presented "Human Growth Hormone Update & Latest Findings," highlighting the vast and diverse benefits of HGH therapeutics.
Joseph Maroon, MD, Professor and Director of Neurosurgery at the University of Pittsburgh-Presbyterian University Hospital, presented "Red Wine and Resveratrol Unlock the Genetic Secrets of a Longer and Healthier Life," sharing the latest data regarding the impact of natural polyphenols to beneficially affect disease and aging.
In "Comprehensive Cancer Treatment," Mark Rosenberg, MD, presented a novel protocol for the treatment of cancer, including case reports demonstrating the success of the approach.
At this conference, the Fellowship in Anti-Aging & Regenerative Medicine program commemorated its first graduating class of Fellowship trained, Board Certified anti-aging physicians. Seventy individuals were acknowledged in their successful completion of the Fellowship's four-module intensive training program.
At the co-located Las Vegas Anti-Aging Exposition, over 550 corporate booths displayed the latest technologies from the medical and biotech market aimed at improving and/or extending the human lifespan. The anti-aging/regenerative medicine industry is currently valued at $60 Billion (2007). Growing at an average annual growth rate of 9.5%, this market will reach nearly $72 billion by 2009. [Business Communications Company, Inc., February 2005.] Companies with products and services in the $7.7 billion aesthetics products and services market also were represented.
Explains Ronald Klatz, MD, DO, A4M President: "Since its founding in 1992, the A4M serves as an advocate for the new clinical specialty of anti-aging medical science and acts as a conduit to physicians, scientists and the educated public who wish to benefit from the almost daily breakthroughs in biotechnology which promise both a greater quality as well as quantity of life. The American Academy of Anti-Aging Medicine (A4M) is among the fastest growing medical societies in the world today, growing from twelve doctors in 1993 to a current membership of 20,000-plus."
Adds Robert Goldman, MD, PhD, DO, FAASP, A4M Chairman: "The A4M has been a major force in advancing the medical specialty worldwide, responsible for positioning the anti-aging clinical medical specialty as a leading innovative paradigm for healthcare in the aging nations around the world. The A4M co-sponsors the world's largest scientific conferences in the area of advanced preventative medicine. The A4M conferences have achieved what to our knowledge no other medical group in history in any specialty has accomplished, growing in three years from just two international conferences to more than 30 annual international conferences around the world on all continents in 2007, many with the support of governments, ministries of health and international sports federation organizations. Anti-aging and regenerative medicine, as part of the preventive medical specialty, are now practiced by thousands of physicians in private medical offices, as well as at some of the most prestigious teaching hospitals around the world."
The Spring 2008 Session of the 16th Annual International Congress on Anti-Aging Medicine & Regenerative Biomedical Technologies takes place 25-27 April 2008 at The Gaylord Palms Resort & Convention Center, Orlando, Florida USA. For program details, visit http://www.worldhealth.net/event.
The American Academy of Anti-Aging Medicine, Inc. ("A4M") is a non-profit medical society dedicated to the advancement of technology to detect, prevent and treat aging related disease and to promote research into methods to retard and optimize the human aging process. A4M is also dedicated to educating physicians, scientists and members of the public on biomedical sciences, breaking technologies and anti-aging issues. A4M believes that the disabilities associated with normal aging are caused by physiological dysfunction which in many cases are ameliorable to medical treatment, such that the human lifespan can be increased, and the quality of one's life enhanced as one grows chronologically older. A4M seeks to disseminate information concerning innovative science and research as well as treatment modalities designed to prolong the human lifespan. Anti-Aging Medicine is based on the scientific principles of responsible medical care consistent with those of other healthcare specialties. Although A4M seeks to disseminate information on many types of medical treatments, it does not promote or endorse any specific treatment nor does it sell or endorse any commercial product.
SOURCE: The American Academy of Anti-Aging Medicine (A4M), Chicago, IL
CONTACT: Catherine Cebula
PHONE: (877) 572-0608
FAX: (978) 742-9719
WEBSITE: http://www.worldhealth.net/event
###