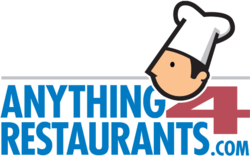 'Find A Distributor' searches provides a great marketing benefit for Distributors looking to increase their awareness...
Providence, RI (PRWEB) July 31, 2012
Anything4Restaurants.com (A4R) is pleased to announce that it has connected several Distributors of Network to its newest feature, "Find A Distributor." By connecting to A4R, these Distributors will extend their reach to a larger audience of foodservice Buyers at the product level for specifically chosen geographic locations. With a product database of over 150,000 foodservice products and growing, A4R is the leading source for product information and generating connections between industry buyers and sellers.
Network, as stated in their company About Us, "delivers the efficiency of a national distributor but with the customization and personal accountability of a local or regional firm," as it is made up of the very best independent distribution companies. Now, through Anything4Restaurants, these Distributors can be found at the product level in specific geographic locations.
Joining A4R and being found through "Find a Distributor" searches provides a great marketing benefit for Distributors looking to increase their awareness in a targeted market of foodservice professionals searching directly for their products.
For more information about benefits of connecting through "Find a Distributor" or becoming listed as a distributor, visit A4R.com or call A4R at 800-393-8807.
About Anything4Restaurants.com
Anything4Restaurants.com is the fastest growing online source for providing product information and connecting industry Buyers with Sellers in the Foodservice and Jan-San Industry. Born from parent company SpecPage.com, A4R creates an efficient business flow between Suppliers, Distributors, and Buyers. With easy to browse product categories and an internal search engine, A4R helps foodservice professionals avoid irrelevant search results and find the products they need fast.
About Network
According to Network, they are a centrally managed collection of 75 independent distributors working together to provide a flexible approach to "delivering the efficiency and reach of national distributors." Network is known for being category specialists as they focus on a strategic set of core markets, such as healthcare, industrial, commercial printing, public sector, foodservice operation, and commercial real estate. Network creates a sense of local presence despite its national reach and is known for "distribution by design." For more information, please visit NetworkDistribution.com.
Current Network Service Distributors Connected to "Find a Distributor:"
Acme Paper & Supply
Acorn Distributors
Baumann Paper
Foley
Heartland Paper Company
Hill & Markes
HP Products
J C Paper
Kelsan Inc.
McShane
Nichols
Oakland Packaging
Paper and Chemical Supply Company
Penn Jersey
Quaker City Paper
Regal Distributing
Schilling