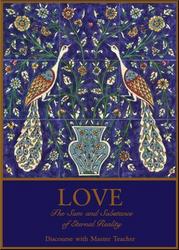 Love: The Sum and Substance of Eternal Reality
Wisconsin Dells, WI (Vocus) September 8, 2009
The eBook transcript of "Love: The Sum and Substance of Eternal Reality", a classic discourse given by the Master Teacher of A Course In Miracles, was published online today, and is available for immediate download.
The talk communicates the intensity, urgency, immediacy and passion of creative mind in the action of Love, and remains an open and vibrant invitation to the experience of the Light and Power of Creation Itself. It is a demonstration by the Master Teacher of the revelatory procedure of illuminate mind.
Words fail entirely to describe an occurrence such as this because the knowledge that illuminates is not a perceptually identifiable concept but an experience of love as the totality of Creative Reality.
As Jesus Christ states in the introduction to the Text of A Course In Miracles "the Course does not aim at teaching the meaning of love, for that is beyond what can be taught. It does aim, however, at removing the blocks to the awareness of love's presence, which is your natural inheritance. The opposite of love is fear, but what is all-encompassing can have no opposite."
In his discourse, the Master Teacher uses St. Paul's famous treatise in I Corinthians 13, ("Though I speak with the tongues of men and of angels, and have not love, I am become as sounding brass, or a tinkling cymbal. And though I have the gift of prophecy, and understand all mysteries, and all knowledge; and though I have all faith, so that I could remove mountains, and have not love, I am nothing"") to perfectly express Jesus' teaching in A Course In Miracles. In the light of a whole new understanding, it becomes abundantly clear that, as Jesus Christ says in Lesson 127, there is no Love but God's.
Jesus' version of I Corinthians 13 (Lesson 127) reads thus, "Perhaps you think that different kinds of love are possible. Perhaps you think there is a kind of love for this, a kind for that; a way of loving one, another way of loving still another. Love is one. It has no separate parts and no degrees; no kinds nor levels, no divergencies and no distinctions. It is like itself, unchanged throughout. It never alters with a person or a circumstance. It is the Heart of God, and also of His Son."
In that lesson, Jesus asserts that, "Love's meaning is obscure to anyone who thinks that love can change. He does not see that changing love must be impossible. And thus he thinks that he can love at times, and hate at other times. He also thinks that love can be bestowed on one, and yet remain itself although it is withheld from others. To believe these things of love is not to understand it. If it could make such distinctions, it would have to judge between the righteous and the sinner, and perceive the Son of God in separate parts."
"Love cannot judge. As it is one itself, it looks on all as one. Its meaning lies in oneness. And it must elude the mind that thinks of it as partial or in part. There is no love but God's, and all of love is His. There is no other principle that rules where love is not. Love is a law without an opposite. Its wholeness is the power holding everything as one, the link between the Father and the Son which holds Them both forever as the same."
"No course whose purpose is to teach you to remember what you really are could fail to emphasize that there can never be a difference in what you really are and what love is. Love's meaning is your own, and shared by God Himself. For what you are is what He is. There is no love but His, and what He is, is everything there is. There is no limit placed upon Himself, and so are you unlimited as well."
"No law the world obeys can help you grasp love's meaning. What the world believes was made to hide love's meaning, and to keep it dark and secret. There is not one principle the world upholds but violates the truth of what love is, and what you are as well."
"Seek not within the world to find your Self. Love is not found in darkness and in death. Yet it is perfectly apparent to the eyes that see and ears that hear love's Voice. Today we practice making free your mind of all the laws you think you must obey; of all the limits under which you live, and all the changes that you think are part of human destiny. Today we take the largest single step this course requests in your advance towards its established goal."
"If you achieve the faintest glimmering of what love means today, you have advanced in distance without measure and in time beyond the count of years to your release. Let us together, then, be glad to give some time to God today, and understand there is no better use for time than this."
The eBook "Love: The Sum and Substance of Eternal Reality" is a transcript of a recorded talk concerning the teachings of Jesus of Nazareth in New Testament scripture and His Course in Miracles given through the revelatory mind of Master Teacher. It is available at: http://www.acourseinmiraclesonline.com/love_ebook.php
# # #