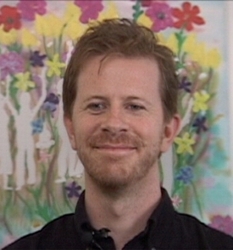 The Peace of God Is Shining In Me Now
Wisconsin Dells, WI (Vocus) July 31, 2009
Miracle Healer/Singer/Songwriter/Awakened Course In Miracles Teacher, Cameron Kennedy announced today that he has just begun work on a new album entitled, "The Peace of God Is Shining In Me Now", following the success of the film (and soundtrack), "A Course In Miracles Unleashed: A Direct Encounter With Jesus Christ In the Evolution And Enlightenment of The Human Species", both of which he co-produced.
According to Kennedy, who had just returned from teaching A Course In Miracles in South America and Europe, "I was watching a video of the Master Teacher presenting lesson 188 of the workbook of A Course In Miracles when I wrote this song 'The Air'. The immediacy of the direct communication dawned upon me and I wanted to share that in a song, something simple, as simple as the lesson, 'The peace of God is shining in me now.' I used simple rhyming patterns A B A B, nothing like the more sophisticated iambic pentameter sometimes used by Jesus Christ in the Course. However, the intent was to tap into the singular song of the universe and access the Holy Spirit's converting factor of darkness to light."
As Jesus expresses it, "Why wait for Heaven? Those who seek the light are merely covering their eyes. The light is in them now. Enlightenment is but a recognition, not a change at all. Light is not of the world, yet you who bear the light in you are alien here as well. The light came with you from your native home, and stayed with you because it is your own. It is the only thing you bring with you from Him Who is your Source. It shines in you because it lights your home, and leads you back to where it came from and you are at home."
"This light can not be lost. Why wait to find it in the future, or believe it has been lost already, or was never there? It can so easily be looked upon that arguments which prove it is not there become ridiculous. Who can deny the presence of what he beholds in him? It is not difficult to look within, for there all vision starts. There is no sight, be it of dreams or from a truer Source, that is not but the shadow of the seen through inward vision. There perception starts, and there it ends. It has no source but this."
"The peace of God is shining in you now, and from your heart extends around the world. It pauses to caress each living thing, and leaves a blessing with it that remains forever and forever. What it gives must be eternal. It removes all thoughts of the ephemeral and valueless. It brings renewal to all tired hearts, and lights all vision as it passes by. All of its gifts are given everyone, and everyone unites in giving thanks to you who give, and you who have received."
"The shining in your mind reminds the world of what it has forgotten, and the world restores the memory to you as well. From you salvation radiates with gifts beyond all measure, given and returned. To you, the giver of the gift, does God Himself give thanks. And in His blessing does the light in you shine brighter, adding to the gifts you have to offer to the world."
"The peace of God can never be contained. Who recognizes it within himself must give it. And the means for giving it are in his understanding. He forgives because he recognized the truth in him. The peace of God is shining in you now, and in all living things. In quietness is it acknowledged universally. For what your inward vision looks upon is your perception of the universe."
"Sit quietly and close your eyes. The light within you is sufficient. It alone has power to give the gift of sight to you. Exclude the outer world, and let your thoughts fly to the peace within. They know the way. For honest thoughts, untainted by the dream of worldly things outside yourself, become the holy messengers of God Himself."
"These thoughts you think with Him. They recognize their home. And they point surely to their Source, Where God the Father and the Son are one. God's peace is shining on them, but they must remain with you as well, for they were born within your mind, as yours was born in God's. They lead you back to peace, from where they came but to remind you how you must return."
To see "The Peace of God Is Shining In Me Now" with Master Teacher, visit: http://www.themasterteacher.tv/catalogue/holographic.htm.
# # #