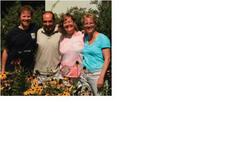 The Transformational Art of Divine Improvisation
Wisconsin Dells, WI (Vocus) September 12, 2009
The Miracles Healing Center in Wisconsin Dells, Wisconsin, unveiled its Autumn calendar with the announcement of a 3-day Miracle Musical Healing event entitled "The Transformational Art of Divine Improvisation". The event, centered on A Course In Miracles, is a 3-act dramatic, musical, instructional invitation to a present joining in an instant of miraculous healing and Divine Love.
The presenters, Cameron Kennedy, Tony Cryer, Ellie Kennedy and Monica Dubay who are all awakened teachers and accomplished musicians, offer a unique and very exciting program, which aims to rekindle the ancient memory of our true home in Heaven.
In describing the experience the event hopes to engender in participants, presenter Tony Cryer, quotes the words of Jesus Christ in A Course In Miracles, "a melody is heard that everyone remembers, though he has not heard it since before all time began. Forgiveness, once complete, brings timelessness so close the song of Heaven can be heard, not with the ears, but with the holiness that never left the altar that abides forever deep within the Son of God. And when he hears this song again, he knows he never heard it not. He hears the sounds the senseless, busy world engenders, yet He hears them faintly. For beyond them all He hears the song of Heaven, and the Voice for God more clear, more meaningful, more near."
Cryer continues, "the world fades easily away before His sight. Its sounds grow dim. A melody from far beyond the world increasingly is more and more distinct. The joy of Heaven comes upon the world. Thoughts turn to Heaven and away from hell. All longings are satisfied. All living hearts are tranquil with a stir of deep anticipation, for the time of everlasting things is now at hand. There is no death. The Son of God is free. And in his freedom is the end of fear. No hidden places now remain on earth to shelter sick illusions, dreams of fear and misperceptions of the universe. All things are seen in light, and in the light their purpose is transformed and understood. And we, God's children, rise up from the dust and look upon our perfect sinlessness. The song of Heaven sounds around the world, as it is lifted up and brought to truth."
He jokingly added, "Wisconsin is in for a huge surprise! Stand by."
All four presenters can be seen (and heard) in the highly acclaimed documentary, A Course In Miracles Unleashed: A Direct Encounter With Jesus Christ In the Evolution and Enlightenment of The Human Species.
The event "The Transformational Art of Divine Improvisation" is scheduled to begin at 7:00 PM on Friday, September 18 and end on Sunday, September 20, 2009. The program is available at http://www.endeavoracademy.com/flyer/09-09-18-wisdells-en.pdf.
# # #