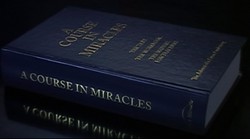 Forgiveness or the release of the necessity to judge is your only function here
Lake Delton, WI (Vocus) September 5, 2009
Illuminate teacher, Reverend Bettina Kempf dashed the hope of millions of "Christians" who are hoping for reward in the hereafter, by asserting the immediacy of salvation, and the impossibility of death.
In an impassioned address on Friday to an international gathering of 200 teachers and students of the revolutionary thought system, "A Course In Miracles" at Endeavor Academy in Lake Delton, Wisconsin, Kempf declared that the only purpose worthy of the human mind is the complete relinquishment of the idea of separation. She urged the individual student to actively engage the mind in the practicing of the lessons of the Workbook. "Forgiveness or the release of the necessity to judge is your only function here," continued Kempf, "as you know from your own experience of awakening, there is no possibility of joy without it, because there is no world."
To underscore the theme of her lecture, Kempf read Jesus Christ's statement from A Course In Miracles, "There is a distance you would keep apart from your brother, and this space you perceive as time because you still believe you are external to him. This makes trust impossible. And you cannot believe that trust would settle every problem now. Thus do you think it safer to remain a little careful and a little watchful of interests perceived as separate. From this perception you cannot conceive of gaining what forgiveness offers now. The interval you think lies in between the giving and receiving of the gift seems to be one in which you sacrifice and suffer loss. You see eventual salvation, not immediate results."
After citing examples from her own personal experiences, Kempf continued, "You have no idea of the tremendous release and deep peace that comes from meeting yourself and your brothers totally without judgment. When you recognize what you are and what your brothers are, you will realize that judging them in any way is without meaning. In fact, their meaning is lost to you precisely because you are judging them. All uncertainty comes from the belief that you are under the coercion of judgment. You do not need judgment to organize your life, and you certainly do not need it to organize yourself. In the presence of knowledge all judgment is automatically suspended, and this is the process that enables recognition to replace perception."
"You are very fearful of everything you have perceived but have refused to accept. You believe that, because you have refused to accept it, you have lost control over it. This is why you see it in nightmares, or in pleasant disguises in what seem to be your happier dreams. Nothing that you have refused to accept can be brought into awareness. It is not dangerous in itself, but you have made it seem dangerous to you."
"Salvation is immediate. Unless you so perceive it, you will be afraid of it, believing that the risk of loss is great between the time its purpose is made yours and its effects will come to you. In this form is the error still obscured that is the source of fear. Salvation would wipe out the space you see between you still, and let you instantly become as one. And it is here you fear the loss would lie. Do not project this fear to time, for time is not the enemy that you perceive. Time is as neutral as the body is, except in terms of what you see it for. If you would keep a little space between you and your brother still, you then would want a little time in which forgiveness is withheld a little while. And this but makes the interval between the time in which forgiveness is withheld from you and given seem dangerous, with terror justified."
"Yet space between you and your brother is apparent only in the present, now, and cannot be perceived in future time. No more can it be overlooked except within the present. Future loss is not your fear. But present joining is your dread. Who can feel desolation except now? A future cause as yet has no effects. And therefore must it be that if you fear, there is a present cause. And it is this that needs correction, not a future state."
"Be not content with future happiness. It has no meaning, and is not your just reward. For you have cause for freedom now. What profits freedom in a prisoner's form? Why should deliverance be disguised as death? Delay is senseless, and the 'reasoning' that would maintain effects of present cause must be delayed until a future time, is merely a denial of the fact that consequence and cause must come as one. Look not to time, but to the little space between you still, to be delivered from. And do not let it be disguised as time, and so preserved because its form is changed and what it is cannot be recognized. The Holy Spirit's purpose now is yours. Should not His happiness be yours as well?"
For more information about A Course In Miracles, visit http://www.thecourseinmiracles.com.
###