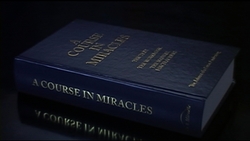 Sit quietly and look upon the world you see, and tell yourself:
Lake Delton, Wisconsin (Vocus) August 8, 2009
In a gathering of spiritually advanced teachers of God, held today at the Endeavor Academy, in Wisconsin Dells, WI, the keynote speaker, Rev. Mitch O'Connor related the compelling story of his own personal experience and realization of the fact that the world is not real.
This realization, stunning though it is to the uninitiated, is commonplace among awakened minds and is borne out by all the recent discoveries in quantum physics and the like. In fact, Jesus Christ who has repeatedly declared and demonstrated this, elucidates in A Course In Miracles, the method by which the truth is realized within the mind of the individual human being.
In one instance, he admonishes one to, "Sit quietly and look upon the world you see, and tell yourself: "The real world is not like this. It has no buildings and there are no streets where people walk alone and separate. There are no stores where people buy an endless list of things they do not need. It is not lit with artificial light, and night comes not upon it. There is no day that brightens and grows dim. There is no loss. Nothing is there but shines, and shines forever.
"The world you see must be denied, for sight of it is costing you a different kind of vision. You cannot see both worlds, for each of them involves a different kind of seeing, and depends on what you cherish. The sight of one is possible because you have denied the other. Both are not true, yet either one will seem as real to you as the amount to which you hold it dear. And yet their power is not the same, because their real attraction to you is unequal.
"You do not really want the world you see, for it has disappointed you since time began. The homes you built have never sheltered you. The roads you made have led you nowhere, and no city that you built has withstood the crumbling assault of time. Nothing you made but has the mark of death upon it. Hold it not dear, for it is old and tired and ready to return to dust even as you made it. This aching world has not the power to touch the living world at all. You could not give it that, and so although you turn in sadness from it, you cannot find in it the road that leads away from it into another world.
"Yet the real world has the power to touch you even here, because you love it. And what you call with love will come to you. Love always answers, being unable to deny a call for help, or not to hear the cries of pain that rise to it from every part of this strange world you made but do not want. All that you need to give this world away in glad exchange for what you did not make is willingness to learn the one you made is false.
"You have been wrong about the world because you have misjudged yourself. From such a twisted reference point, what could you see? All seeing starts with the perceiver, who judges what is true and what is false. And what he judges false he does not see. You who would judge reality cannot see it, for whenever judgment enters reality has slipped away. The out of mind is out of sight, because what is denied is there but is not recognized. Christ is still there, although you know Him not. His Being does not depend upon your recognition. He lives within you in the quiet present, and waits for you to leave the past behind and enter into the world He holds out to you in love.
"The peace of God passeth your understanding only in the past. Yet here it is, and you can understand it now. God loves His Son forever, and His Son returns his Father's Love forever. The real world is the way that leads you to remembrance of the one thing that is wholly true and wholly yours. For all else you have lent yourself in time, and it will fade. But this one thing is always yours, being the gift of God unto His Son. Your one reality was given you, and by it God created you as one with Him."
For more information visit http://www.themasterteacher.tv/catalogue/endoftheworld.htm
# # #