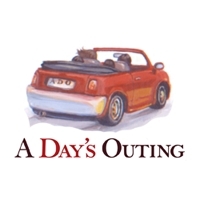 Charlottesville, VA (PRWEB) March 31, 2009
A Day's Outing is introducing a novel online search tool for discovering short-distance day trips and weekend outings. Compared to traditional online travel sites, where the user is required to know their destination in advance, A Day's Outing, on the other hand, has pioneered a new approach to online travel search that uses a person's location and their personal interests to help them discover unknown activities, new places, and upcoming events. The new company was created from the ground-up to help users spontaneously plan appealing outings so they can make the most of their leisure time with family and friends. A Day's Outing unveiled a beta version of its free service that is now available in the Mid-Atlantic region, including Virginia, Washington D.C, and Maryland. The company will continue to extend its service on a regional basis before going nationwide.
Given the current economy, local day trips, nearby weekend outings and "staycations" appear to be more popular than trips lasting one week or longer. According to the Travel Industry Association, 40 percent of weekend travelers report they are taking more day and weekend trips today than they did five years ago. A 2008 Leisure Trends survey of 3,000 "active Americans" found that 30 percent changed their summer travel plans. More than half said they would vacation closer to home, with some canceling their vacations. Instead, many will take shorter weekend trips in place of two-week vacations.
Designed to Appeal to Women Who Plan Majority of Activities
The new online service was designed primarily for busy women who plan the majority of weekend and family activities but are overwhelmed with too many publications and online sites that either list events limited to one geographical area or are too cumbersome to navigate. For that reason, A Day's Outing was built with simplicity as a priority. With any search using A Day's Outing, a user will only be presented with a single page to choose one's preferences for an outing, one page with results, and one page with outing details. The focus on simplicity eliminates getting lost on the site, saving users time and hassles when planning a day trip.
Compared to other sites that focus on a younger demographic and social networking, A Day's Outing has selectively focused on events and outings that offer many family-friendly options and are relevant to a female audience, such as festivals, farmers' markets, gardens, museums, among others. The service essentially boils down results to only the "good stuff," eliminating bars, gentlemen's clubs, casinos and singles parties.
A Day's Outing Hyperlocal Content: Highly Relevant, Highly Personalized Information
Local content continues to proliferate as new technology advances have enabled improved search, aggregation and distribution. According to a March 2009 report by PhoCusWright titled, "Hyperlocal Content Services," the concept of "hyperlocal" introduces a new paradigm in which content based on proximity, presence and context is delivered to users. Hyperlocal websites as well as smartphones are increasingly helping consumers access geolocation-based content such as information, events, entertainment and advertising centered on an individual's specific location and time. While local information is already pervasive, it is still rather challenging for people to find and access information quickly and without hassles. A Day's Outing represents one of a growing number of startups that are racing to build businesses that deliver highly relevant and personalized, local information to users when they want it.
New Search Tool Ideal for Planning Last-Minute Local Outings and Day Trips
A Day's Outing saves users time and the hassle of having to wade through an overwhelming number of print and online resources. A Day's Outing is the only tool that:

Lets users search across multiple categories of interest - simultaneously, and then presents one simple page with results and another with outing details. For example, if a user is interested in categories ranging from a local fair, museum, art, history, wineries, or antiques, the user can run a single search across this subset of categories and be presented with one page of results that is fast and easy to navigate.
Takes the proximity of where someone is starting from and delivers a comprehensive list of outings and events personalized around their preferences. Alternative sites, on the other hand, require users to know, in advance, where they want to go or what is happening. The reality is that most people often don't know in advance what is happening either in town or in a neighboring one.
Enables users to discover events and outings within smaller towns and communities, and isn't just focused on events in large, metropolitan cities.
"Our goal was to create an online service so that women could easily plan a day trip by simply letting us know where they were starting from and what they wanted to do. Our aim is to essentially put the right content, in the right hands, at the right time. We hope that A Day's Outing is a valuable, timesaving service that helps users plan fun outings and events spontaneously that they can do with their friends or family," commented Elizabeth Muse, co-founder and CEO of A Day's Outing.
Whether a person is vacationing and looking for a day trip or is starting their weekend adventure from home, A Day's Outing is an ideal resource. The service can tell users about events and destinations they have never heard of in places that are many miles away or just around the corner.
About A Day's Outing
Based in Charlottesville, VA, A Day's Outing is an online search tool that provides an easy way to plan last-minute, short-distance day trips and weekend outings. A Day's Outing is the first online search tool aimed at women to help them quickly find outings for themselves or their families. Users benefit from the service's simplicity, highly personalized outings and events, and timesaving functionality. For more information about A Day's Outing, please visit adaysouting.com.
Press Contact:
Carmen Hughes
Ignite P.R.
w: 650.592.1768
c: 650.576.6444
carmen(at)ignitepr.com
###