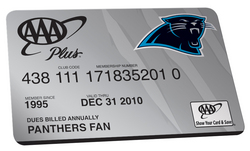 I have witnessed first hand the great work of the Make-A-Wish Foundation
Charlotte, NC (PRWEB) September 10, 2009
Robbie Deese loves AAA and the Carolina Panthers, but he has a particularly soft spot for Make-A-Wish Foundation.
So when AAA Carolinas and the Panthers teamed up to create the Carolina Panthers AAA Card - donating a portion of the proceeds from every card to Make-A-Wish Foundation - he was one of the first in line to get it.
"I have witnessed first hand the great work of the Make-A-Wish Foundation," said Deese, whose wife and two nieces are cancer survivors. "It's about compassion, help, and allowing children to have a wish come true. Simple things like having fun, eating ice cream, seeing how people care for others, make the world a better place."
Other AAA members have similar feelings about the new Carolina Panthers AAA card, which is only available to residents of North and South Carolina. Almost 2,000 AAA members have purchased the card since it launched this past April.
"We didn't just want a new AAA card that looked nice," said David E. Parsons, CEO and president of AAA Carolinas. "We wanted the card to mean something more - beyond AAA and the Panthers."
"This card is the perfect match of two organizations that care about people and have a special place for Make-A-Wish Foundation."
The Make-A-Wish Foundation grants wishes to children with life-threatening illnesses, sending them to theme parks, live television performances, sporting events or helping them enjoy a specially requested occasion.
For the 1.7 million AAA members in the Carolinas, the Carolina Panthers AAA card is only $5. New members joining AAA can get the Panthers AAA card for the same $5, in addition to the AAA membership they select.
AAA membership includes the protection of 24/7 roadside service for every member, as well as discounts on travel, insurance, car care and everyday purchases.
Among the 150,000 AAA savings partners is the Carolina Panthers Team Store, where AAA members save 10 percent on their purchases.
The Carolina Panthers AAA card can be purchased by visiting http://www.aaagameday.com.
An affiliate of the American Automobile Association, AAA Carolinas is a not-for-profit organization that serves more than 1.7 million members with travel, automobile and insurance services while being an advocate for the safety and security of all travelers.
###