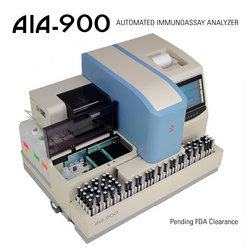 South San Francisco, CA (PRWEB) June 17, 2010
The AACC 2010 Annual Meeting in Anaheim, CA will be an exciting event for Tosoh Bioscience (Booth #7714) as the company plans to unveil several new products, host giveaways and provide live demonstrations of Tosoh's advanced systems for immunoassay and HPLC testing.
At AACC 2010, Tosoh Bioscience will be introducing the highly anticipated AIA-900 Automated Immunoassay Analyzer (Pending FDA Clearance). This flexible new addition to Tosoh's respected family of AIA analyzers has a throughput of 90 tests per hour and is available in 3 different models: the bench top model, the bench top model with sorter for 9 test cup trays, and the floor top model with sorter for 19 test cup trays. The AIA-900 utilizes the same Unit Dose Test Cup reagent technology as all Tosoh AIA immunoassay analyzers.
Three new assays will be introduced for use on Tosoh AIA systems including RBC Folate, Cystatin C (Pending FDA Clearance) and HbA1c (Pending FDA Clearance). The Cystatin C and HbA1c assays will be available in the 10 minute incubation (ST) format.
Tosoh will also be featuring the AIA-2000 Automated Immunoassay Analyzer, a high throughput immunoassay system that delivers excellent performance (200 tests per hour) with extraordinary flexibility and customization. The user can load up to 960 tests (48 trays) in a new, easy to load hybrid sorter; increasing walk-away time to approximately 4 hours.
The user-friendly AIA-360 Automated Immunoassay Analyzer runs 36 tests per hour. With a compact footprint (16"W x 16"D x 21"H/61 lbs), the AIA-360 is an excellent solution for POLs and small hospitals. The analyzer can also function as a dedicated system for specialty testing or for use as a back-up analyzer.
All Tosoh AIA immunoassay analyzers utilize the same Unit Dose Test Cup reagent format, ensuring consistent performance every time. With interchangeable reagents on all Tosoh systems, inventory management is easy and problem free. Transition from one system to another is seamless, ensuring consistent results and efficient, economical operation for the laboratory.
For HbA1c testing, Tosoh's G8 HPLC Analyzer provides low CVs of less than 2%. The instrument-reagent system utilizes the gold standard ion-exchange method for HbA1c testing to effectively monitor glycohemoglobin in diabetic patients. This NGSP certified system provides fast results with an HbA1c analysis time of only 1.6 minutes.
The AACC Annual Meeting and Clinical Lab Expo will be held this year from July 25 to 29 at the Anaheim Convention Center. AACC members, exhibitors and educators convene for 4 days of seminars, meetings and exhibit hall activities.
For more information contact Tosoh Bioscience at (800) 248-6764 or visit http://www.tosohbioscience.us.
# # #