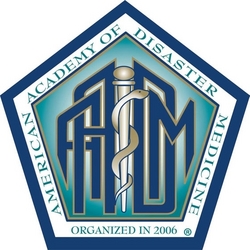 Disasters may strike at any time so it's always important to be ready and prepared to maintain the health and safety of yourself and your loved ones until first responders are able to arrive
Tampa, FL (Vocus) September 3, 2009
September is National Preparedness Month and the American Academy of Disaster Medicine (AADM) reminds the public that disaster emergencies come in many forms, some natural and others man-made. AADM, comprised of physician leaders from all medical specialties with knowledge in disaster management, offers these emergency planning tips that may save your life or that of a loved one.
First, consider what kinds of disasters are most likely to occur in your community and how residents will be notified (e.g., hurricane, tornado, flood, blizzard, etc.).
Think about the different safety needs for every kind of potential emergency.
Determine where the nearest disaster emergency centers or shelters are in your community.
Map out an evacuation route in case it is necessary.
Post emergency phone numbers posted near telephones or program them into your cellular phone and keep in wallets or pocketbooks at all times.
Prepare a list of family physicians in the event you or a family member is injured.
Store all necessary emergency items at easily accessible places in backpacks or duffel bags.
Emergency items may include prescription medicine, eye glasses, drinking water, non-perishable food, a manual can opener, personal hygiene items, extra set of clothes and rain gear.
Select one place near your home to meet-up together, and another place to meet outside your neighborhood in case you and your family members can't return home after a disaster.
"Disasters may strike at any time so it's always important to be ready and prepared to maintain the health and safety of yourself and your loved ones until first responders are able to arrive," said AADM President Gary M. Klein, M.D., MPH, MBA, CHS-V.
The American Academy of Disaster Medicine (AADM), the educational and advocacy affiliate of the American Board of Disaster Medicine (ABODM), was formed to meet the myriad of needs created by the disaster planning, preparation, education, response, and recovery environment. ABODM is the first medical board in the United States to offer physician certification in Disaster Medicine. ABODM is a Member Board of the American Board of Physician Specialties (ABPS), the official certifying body of the American Association of Physician Specialists, Inc. (AAPS). More information is available at http://www.aapsus.org/academies/disaster-medicine/index.html.
###