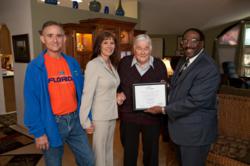 "Everything we try to do is with Daddy in mind", says Gufford. "I couldn't imagine anyone else taking care of my dad."
Jacksonville, FL (PRWEB) December 08, 2011
Arms Around Family Caregivers is proud to present Jacksonville resident Lisa Gufford with the 2011 Pillar of Strength Award. This award, an annual recognition of dedicated service to a family member in need, includes respite care services and products to ease the life of the winning family caregiver.
The award was presented to Ms. Gufford by Robert Solomon, owner and operator of SYNERGY HomeCare of Jacksonville.
"You would not know it, the way Lisa carries herself and helps others, but she has a lot going on", says Solomon. "It was a very emotional experience to present Lisa with this award."
The Pillar of Strength Award includes respite services that will give Ms. Gufford time to rest from the constant effort of family caregiving while also giving her tools that will help her to continue family caregiving with more ease. Arms Around Family Caregivers will provide Ms. Gufford with over 40 hours of respite care from a SYNERGY HomeCare caregiver, as well as a medical alarm system and regular check-in services.
Gufford, who cares for her recently widowed father-in-law, was chosen by the Arms Around Family Caregivers committee to receive the Pillar of Strength Award. Lisa shared her family caregiving story on the program's Facebook page. After her father-in-law suffered the traumatic loss of her mother-in-law and an ensuing stroke at her memorial service, Lisa moved him into her home.
"Everything we try to do is with Daddy in mind", says Gufford. "I couldn't imagine anyone else taking care of my dad."
Each day, Lisa and her husband Wade compassionately care for their father, who is struggles with depression,, food addiction and immobility. After working 60-70 hours per week as an office manager at a local business building, she still provides three healthy meals per day as well as transportation and emotional support to her family.
"Lisa's story stood out among this year's nominations", says Arms Around Family Caregiver's representative Kate Hubbard. "Her empathy for her father's pain and her desire to provide the best for him inspired us. We are honored to provide her with respite."
About Arms Around Family Caregivers
Arms Around Family Caregivers is an outreach program created by SYNERGY HomeCare. Since 2010, Arms Around Family Caregivers has provided respite care and helpful resources to family caregivers throughout the United States. For additional information, please visit http://blog.synergyhomecare.com/
###