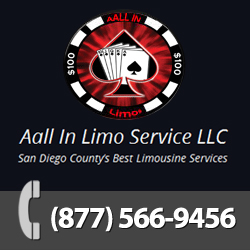 We are a luxury business in a tough economy and getting ahead slowly but surely
San Diego, CA (PRWEB) February 06, 2013
Company owner and operator of Aall in Limo Service, Mike Reifeiss and his team sponsored Gaslamp.org on this year's Valentine's Day. James, Aall in Limo's chauffeur, drove the staff from Gaslamp.org, on a tour throughout San Diego where they provided tips about where couples can spend an amazing Valentine's Day on 14th of February.
During the tour Sarah, the host from Gaslamp.org, interviewed James, an enthusiastic team member and skilled chauffeur at All in Limo's. Aall In Limo specializes in a lot of the Gaslamp venues, some of these include: transportation to midnight clubs, late night parties for bachelors and bachelorettes, birthday parties, downtown spots and much more. Aall In Limo Service also offers wine tasting tours in Temecula and brewery tours in San Diego.
"We hook our clients up with half of wine tastings on our tours. People enjoy this kind of customer service we provide." – says James then he shows off the brand new, luxurious limousine the company just purchased. "We are a luxury business in a tough economy and getting ahead slowly but surely." – stated All in Limo driver, James.
All those who plan on having a perfect Valentine's Day in San Diego can watch the Gaslamp tips presented by Sarah. Aall in Limo Service LLC will assure your safe and elegant transportation to your Valentine's Day designations.
About Aall in Limo Service LLC
Aall In Limo Service, LLC is a premiere limousine company in San Diego specializing in providing professional customer service at an affordable price. The company provides high quality transportation services to many destinations throughout San Diego County including wine tasting tours in Temecula Valley Wine Country. Call 1-858-336-1894 to book your limo today!
# # #