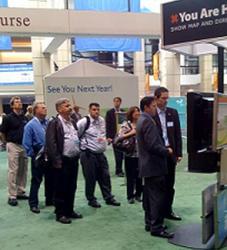 We are always interested in bringing new and effective technologies to our members, and we believe that many of them will benefit from having the You Are Here system at their own events
Arlington, VA (PRWEB) July 9, 2009
MarketArt is proud to announce that it has been selected by AAMSE to provide an enhanced attendee experience at the American Association of Medical Society Executives (AAMSE) 2009 Annual Conference.
MarketArt will provide its You Are Here interactive map and directory system at the organization's annual conference and will also be exhibiting its web-based relevance platform to the top management of the nation's largest medical associations. The AAMSE Annual Conference will be held in Baltimore, MD over July 22 - 25.
"We are always interested in bringing new and effective technologies to our members, and we believe that many of them will benefit from having the You Are Here system at their own events," commented Jean Wenzel, Marketing Director at AAMSE.
The You Are Here system will be deployed on multiple touch-screen stations distributed throughout the event. The system helps attendees quickly find their way to the companies, products, services and sessions of highest interest to them, and enables exhibitors to extend their reach, promote their offerings and attract qualified traffic to their booths. For both attendees and exhibitors working with tight schedules and even tighter budgets, You Are Here enables higher productivity and a strong return on investment.
You Are Here on the Web gives associations an all-new platform that enables exhibitors to dynamically reach out to attending members, keeps exhibitors and attendees in contact throughout the year, and ensures the association's ongoing relevance to all its members For events with smaller exhibitions and with a focus on speakers, seminars, education and certification, You Are Here on the Web solves their need for better connection opportunities for members and the vendors who service them.
The AAMSE Annual Conference prepares CEOs and executive staff of medical societies for the tides of change in the health care industry by bolstering leadership skills, improving technical proficiency and sharpening valuable network connections. Attendees will also meet exhibiting companies who will demonstrate cutting-edge technologies and services that address health care industry trends.
About MarketArt - http://www.MarketArt.com:
MarketArt is a digital media technology company that develops and sells interactive media and advertising systems to both online and to out-of-home markets. The company is the leading provider of electronic directories to the trade show market with its You Are Here products.
You Are Here is an event marketing, exhibitor promotion and attendee information system for trade show managers, exhibitors and attendees. Its core is an interactive, map-based, directory and advertising platform. You Are Here merges user-content, search, social and digital media into a powerful event marketing 'magnet', that connects buyers and sellers.
The system is deployed both on a show's web site and on the show floor itself and is employed by many of the largest trade shows in the U.S. You Are Here can replace traditional printed materials and is especially important to environmentally 'green' shows. The company and has offices in Alexandria, VA and Albany, NY.
About AAMSE - http://www.AAMSE.org:
The American Association of Medical Society Executives (AAMSE) is the professional organization of more than 900 medical society executives and staff specialists. Through its more than 380 member organizations, it advances the profession of medicine through education, communication of knowledge, leadership development and collaboration. Member organizations include county, regional, state, state specialty, national, national specialty and international medical societies, as well as affiliated healthcare organizations and industry partners.
###