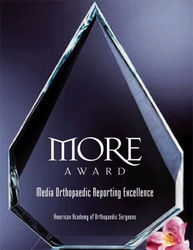 The AAOS considers public education a top priority, therefore we cannot overstate the value of the media in helping us teach the public about treatment and research of musculoskeletal conditions. And, long before they are our patients there is still time to teach people how to prevent injuries. The MORE Awards are designed to recognize journalists whose work helps us serve the public this way
Rosemont, IL (Vocus) July 10, 2009
The American Academy of Orthopaedic Surgeons (AAOS) has opened the call for submissions to its fifth annual MORE Awards. These awards recognize excellence in accurate reporting on musculoskeletal health issues and healthy behaviors in the care of bones, joints and muscles. The AAOS invites all journalists to submit their top-notch stories of prevention, treatment and recovery on musculoskeletal issues. Join a prestigious group of journalists and win your very own 2010 MORE Award.
Recent MORE Awards winners include: Robert Bazell, NBC News, Judy Fortin, CNN, Juju Chang, ABC News, Katie Hobson, U.S. News and World Report and Peter Moore, Men's Health.
Have you recently written or reported on any of the following: Scoliosis, hip resurfacing, joint replacement, osteoporosis or arthritis, sports injuries, military or war-related extremity injuries, injury or fall prevention, stem cells and regenerative medicine?
MORE Awards will be given to media in the following categories:
•National Consumer Print Journalism : newspapers, magazines
•Local Consumer Print Journalism: newspapers, magazines
•National Broadcast Journalism: television, radio
•Local Broadcast Journalism: television, radio
•Advocacy: newspapers, magazines, Internet, television, radio
NEW Category for the 2010 competition:
•Internet-specific Consumer Journalism: stories created exclusively for an online audience
Entries submitted in the Advocacy category recognize excellence in reporting musculoskeletal health programs at the federal, state and local levels as well as emphasize the importance of research funding for the advancement of orthopaedics.
The entry deadline is Friday, October 30, 2009. Entries must have been published or broadcast between October 1, 2008 and October 1, 2009. The rules and entry form - open to all journalists, freelance writers and editors in print or broadcast media - are accessible at http://www.aaos.org/moreawards.
"The AAOS considers public education a top priority, therefore we cannot overstate the value of the media in helping us teach the public about treatment and research of musculoskeletal conditions. And, long before they are our patients there is still time to teach people how to prevent injuries. The MORE Awards are designed to recognize journalists whose work helps us serve the public this way," explained Joseph Zuckerman, MD, president of AAOS. "The MORE Awards were created to recognize the members of the media whose thoughtful, strategic and well-researched work accurately highlights orthopaedic-related issues and medical advancements."
The MORE Awards will be presented on Friday, April 30, 2010 at the American Academy of Orthopaedic Surgeons' National Orthopaedic Leadership Conference in Washington, DC.
For more information, contact:
Lauren Pearson 847-384-4031
Kristina Findlay 847-384-4034
###