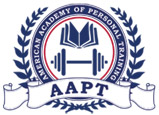 Approval of Title IV Federal Aid for AAPT students confirms that the Academy maintains the highest standards of academic excellence
NEW YORK, NY (PRWEB) May 07, 2013
The American Academy of Personal Training (AAPT)—the country's first personal training school to be nationally accredited—is now approved by the US Department of Education to offer Federal Student Aid (FSA). Eligible AAPT students will have access to low-cost government loans at very favorable repayment terms, regardless of past credit history. FSA is available to US citizens and legal residents who might otherwise be unable to afford tuition.
In 2011, AAPT became the first US personal training school to achieve US Department of Education recognition as a nationally-accredited institution and the first to earn the elite ".edu" web address designation.. Today, AAPT maintains the highest standards of educational excellence and continues to pave the way for professional personal trainers to obtain rewarding careers.
AAPT Founder and President, Harry Hanson, commented: "The US Department of Education's approval of AAPT for Title IV government funding is a reaffirmation of the high educational standards we maintain. We are thrilled that we can now reach a broader population of students who might otherwise be unable to afford the career training needed to achieve success in this quickly-growing field."
AAPT offers the complete package: full-service admissions, a variety of financial aid options, the most comprehensive personal training education available, and a consistent track record of successful job placement assistance.
Headquartered in New York City with a branch in Boston, AAPT is a private occupational school internationally recognized for its innovative hands-on approach to personal training education and career preparation. Its intensive combination of 150 hours of classroom lecture and 150 hours of laboratory instruction covers exercise science, customized programming, injury prevention and business planning.
For further information, please contact David Shar at 212-242-2278 or dshar(at)aapt(dot)edu.