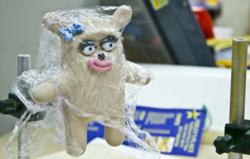 when you work with people, you sometimes don't get quite what you want
(PRWEB UK) 21 February 2013
The rare footage sees the Aardman team, whose film 'Pirates! Band of Misfits' has been nominated for Best Animated Feature Film at this weekend's Oscars, explain how they were able to convey the company's key messages in the new advert.
The 30 second advert focuses on the theme of trust and recommendation after the claims company found that consumers are heavily influenced by these factors. This is supported by in-depth research that reveals that more people are likely to recommend National Accident Helpline than any other claims company, giving consumers the confidence that National Accident Helpline can offer the service and expertise they need.
During the short 'making of' video, Director Danny Capozzi explains why he thinks viewers are more likely to connect with the ad, whilst Head Model Maker Chris 'Enty' Entwistle talks about the benefits of using claymation, saying because the characters are so "pliable and malleable, you can bend them around, and squeeze them so that you can add expression."
Gordon Smith, Creative Director at CST The Gate, the advertising agency responsible for the Underdog concept, goes on to explain his decision to use claymation in the adverts, saying "when you work with people, you sometimes don't get quite what you want."
The new 'Grapevine' ad features a catchy version of Marvin Gaye's '60s classic hit 'I Heard It Through The Grapevine' as well as four new Underdog characters.
Beth Powell, consumer director at National Accident Helpline said: "Aardman are a talented team. Each member brings their own unique set of skills and is able to convey our key messages into what you see on the television."
You can watch the video, and the new advert on National Accident Helpline's YouTube channel.
-ENDS -
About National Accident Helpline
National Accident Helpline is the most recommended personal injury claims company in the UK, helping people who may feel like the Underdog understand their rights since 1993.
For further information about National Accident Helpline, please contact Jennifer Ly
PR & Marketing Communications Executive on 01536 488540 or email Jennifer.Ly@consumerchampiongroup.co.uk
http://www.underdog.co.uk/
About Aardman Animations
Aardman, based in Bristol (UK) co-founded and run by Peter Lord and David Sproxton, is a world leader in animation. It produces feature films, television series and television commercials for both the domestic and international market. Their multi-award winning productions are novel, entertaining, brilliantly characterised and full of charm that reflects the unique talent, energy and personal commitment of the very special people who make up the Aardman team. The studio's work is often imitated and yet the company continues to lead the field producing a rare brand of visually stunning and amusing independent and commercials productions.
For further information about Aardman Animations please contact Anna Harding on
+44117 3071318 | +44 7590 712605 or anna.harding@aardman.com
http://www.aardman.com/