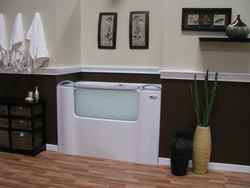 The Ava Bath exemplifies what Aquatic stands for – an unwavering commitment to developing products that enhance and even transform our customers' lives
Anaheim, CA (Vocus) September 8, 2010
Aquatic – the world leader in innovative and inspirational bathware – today announced that the company will demo its ground-breaking Ava Bath at AARP's Sept. 30-Oct. 2 national event and expo, "Orlando@50+", giving attendees an opportunity to see the new industry standard for accessible bathing.
The Ava Bath enables a broader range of people – including but not limited to those with mobility issues – to easily experience the benefits of bathing hydrotherapy in a truly beautiful, accessible tub with breakthrough features. The Ava Bath drew huge crowds earlier this year at both the International Builders Show and the Kitchen & Bath Industry Show, captivating consumers, designers and building professionals alike. Now attendees of AARP's 2010 annual conference will be able to view the Ava Bath at Aquatic's booth, No. 438. (For a sneak preview before Orlando@50+, visit Aquatic's online videos and select "The Beauty of Ava.")
With more than 350 products across three lines of business including an accessible line, Aquatic offers the broadest bathware selection and is the choice of consumers, designers, home builders and professionals specifying tubs and showers for apartments, condominiums, hotels and resorts, hospitals and heath care facilities, college and university dormitories, and other large projects.
"The Ava Bath exemplifies what Aquatic stands for – an unwavering commitment to developing products that enhance and even transform our customers' lives," said Gary Anderson, President of Aquatic. "Ava is the perfect choice for anyone who wants an exquisite bathing experience every time he or she gets into a tub regardless of mobility level. It's the perfect product for people remodeling with aging-in-place in mind as well as those who currently have mobility challenges."
The Ava Bath is a sleek, modern design that beautifies any bathroom -- unlike the typical accessible bathtub available today, which looks institutional. Additional unique features include:

Unprecedented ease of access. The tub's 35½", easy-transfer, automated door lowers to open and rises to close, making entry and exit equally as simple for people who walk up or are in wheelchairs. In contrast, accessible tub doors typically swing in and out, requiring a higher level of mobility for maneuvering around both the door and tub threshold – an often difficult and frustrating experience.
A roomy, benchless, bathing well design. This enables a wider range of bathers, including those with limited mobility, to get into the optimal reclining position for their individual needs so they can enjoy a deeper, more immersive and soothing, soaking experience than possible with a molded seat.
A patent-pending, quick-drain feature that empties the 70-gallon tub in an astonishing 30 seconds or less. That means virtually no delay and getting cold for the bather who can exit in seconds versus minutes, retaining the full benefit of the bath.
All three Ava Bath models (soaker, whirlpool and air bath) come in a standard 60" width, which is ideal for commercial and residential installation in both new construction and remodeling projects.
The Ava Bath is among the exciting, new products introduced this year by Aquatic, formed from the January 2010 merger of Lasco Bathware and Aquatic Whirlpools, two bathware industry leaders serving different facets of the market. Aquatic's accessible line includes more than 40 tubs and showers plus related accessories -- all designed to promote safety and ease of use for everyone, including seniors and people of all ages with disabilities. The everyday bathware line, popular with builders, offers 150-plus quality tubs and showers at an outstanding value. The luxury hydrotherapy catalog features more than 140 premium whirlpool tubs frequently specified by architects and other designers.
With 40 million members and offices in all 50 states, the District of Columbia, Puerto Rico and the U.S. Virgin Islands, AARP is the nation's largest membership organization working to improve the quality of life for people 50 and over. Orlando@50+, which will be at Orlando, Florida's Orange County Convention Center, is expected to attract more than 25,000 attendees for three days of celebrity speakers, interactive exhibits, concerts, educational forums, and fun activities.
About Aquatic
Aquatic is the world leader in bathware and shower products. Born from the 2010 merger of Lasco Bathware and Aquatic Whirlpools, Aquatic offers the broadest and most inspiring selection of luxury hydrotherapy, everyday and accessible bathing products. Based in Anaheim, California, Aquatic serves distributors, builders, architects, designers and consumers through a nationwide network of state-of-the-art facilities for manufacturing, distribution and support. For more information, visit http://www.aquaticbath.com.
# # #