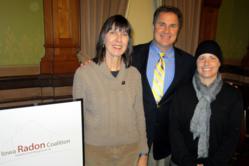 "21,000 lung cancer deaths a year from radon is a serious health threat and I applaud Congressman Braley for taking this leadership role."
Fletcher, NC (PRWEB) January 18, 2013
January is Radon Action Month, and on Monday, Congressman Bruce Braley of Iowa announced he was reintroducing the "End Radon in Our Schools Act" that he first introduced last year.
Nearly 25 years after the passage of the Indoor Radon Abatement Act (IRAA), the President of AARST, the nation's leading professional organization working on radon (radioactivity) reduction solutions and standards, thinks this proposed remedy is part of the solution.
"70,000 classrooms in America have dangerous levels of radioactivity in them in the form of radon gas, but our nation does not know where these specific classrooms are" said Shawn Price, President of the American Association of Radon Scientists and Technologists (AARST), a professional and standards writing organization.
"This is a national disgrace that puts school children and teachers at risk."
Price believes inaction by schools around the country has produce significant needless health risks and deaths considering that Congress instructed the EPA to do something about this in 1988. Most schools can't afford testing and the EPA is now downsizing the nation's radon program.
The 1988 IRRA required that EPA develop a plan to remedy the radon in school problem but a lack of resources has prevented them from completing this Congressional mandate.
"As parents," said Price, "we send our children to school and worry about safety on buses and in the classroom, from fires and the food they eat, but we never think we're sending some of them to breath the equivalent of half a pack of cigarettes per school day, in effect, telling them they must smoke them all before they come home."
In an interview with Jeff Rosen on the Today Show (Rossen Reports, Feb 29, 2012 Min 1:30) last year, William Field, Ph.D., one of the nation's leading radon health experts, said that requiring students to spend the day in a classroom with radon concentrations at the U.S. Environmental Protection Agency's upper action limit for radon of 4 picoCuries per liter of air represents a similar lung cancer risk to forcing a student to smoke several cigarettes during the course of a school day.
Four pCi/L is the EPA's upper trigger limit for fixing radon (radioactivity) problems in a home or school.
"If the class room is higher than that," said Price, "the risk is considerably higher."
Is radon real? Just ask retired teacher Gail Orcutt of Iowa who learned the hard way.
It all began with wheezing and a nonproductive cough in mid-March 2010. Gail, a never-smoker, attributed her illness to the allergy season. When it didn't improve, she saw her family doctor, who ordered an x-ray. This led to a chest CT that found a mass "compatible with a malignancy."
This time the report came back as cancer: adenocarcinoma lung cancer, this is the most common kind of lung cancer in women and includes a significant percentage of people who never smoked.
Gail tested her home for radon and the test results came back at 6.9 pCi/L per liter of air. Gail underwent extensive surgery which included removal of her lung and chemotherapy. Since this experience, Orcutt has been committed to raising awareness and urging the passage of cost effective new laws that reduce widespread exposure to this dangerous gas. "There were six doctors who knew about my case, and not ONE of them ever mentioned radon."
Gail now volunteers on behalf of the Iowa Radon Coalition, the American Cancer Society, the American Lung Association and Cancer Survivors Against Radon.
These groups teamed with Congressman Braley who proposed legislation would provide grants to states to work with school districts to test the radon levels in their school buildings.
Under the proposed legislation, if a school building has an unhealthy radon level, the school would be given funding to mitigate or reduce the high radon levels.
Price believes Braley's bill must be seriously considered by Congress. "21,000 lung cancer deaths a year from radon is a serious health threat and I applaud Congressman Braley for taking this leadership role."
In the meantime, Price notes that states like Illinois, Connecticut and Maine have individually taken up the leadership vacuum by passing state laws with rules that require testing in schools. They are starting to address this issue on the state level.
"We need every state and school district to take this leading environmental cause of cancer seriously, in order to prevent deadly a health risk to both students and teachers in the United States."