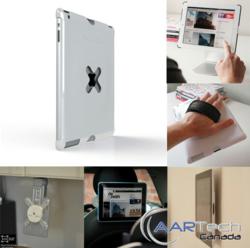 Aartech Canada now distributing The Wallee line of iPad cases and modular accessories.
Oshawa, Ontario (PRWEB) October 31, 2012
Aartech Canada, a Canadian distributor of home automation, security products and electronics, is now stocking The Wallee line of iPad cases and modular accessories including iPad wall mounts and car headrest mounts, desk stands and carry pouches.
The Wallee system begins with a cleverly designed, seemless protective case available for all iPads. The iPad is then able to quickly attach with a quarter turn, to a number of modular accessories. The Wallee Disk allows for wall or furniture mounting in either landscape or portrait orientation. The iPad can be easily rotated between positions without removing it from the wall.
The Wallee Kick and Pivot stands are a great way to display and use the iPad at home or business. The Wallee iPad headrest mount allows the iPad to be attached quickly in the car for back seat entertaining. The Wallee line also includes carry pouches, VESA adapters, Kiosk locking displays and hand strap for secure use on the go.
About Aartech Canada Inc
Aartech Canada Inc is a rapidly growing, fully Canadian owned and operated distributor of home automation and security products based on Oshawa, Ontario. Aartech Canada's business continues to be built on a strong commitment to customer service and a desire to offer unique, high quality and exciting products to Canadian customers with local Canadian support.
About The Wallee and Studio Proper
Creators of The Wallee line, Studio Proper is a boutique product design studio based in Melbourne, Australia. We spend our time designing products with the goal of enhancing your interaction with, and extending the utility of the devices in your life. We believe that products have to serve a real purpose and create real opportunity rather than be superfluous 'accessories'.
For more information, contact:
Robert Mowles
Aartech Canada Inc
1-877-760-3105 ext 221
http://www.aartech.ca