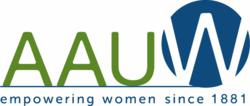 Washington, DC (PRWEB) April 05, 2013
WHAT: The American Association of University Women (AAUW) is hosting its annual outdoor (Un)Happy Hour this Tuesday to mark Equal Pay Day. This is the symbolic day when women's pay finally "catches up" to men's from last year, which takes these few extra months thanks to the 23 percent gender wage gap.
WHY: Over the course of a woman's lifetime, lost earnings due to the wage gap can amount to nearly half a million dollars — and for some, that's a conservative estimate. This problem is not going away on its own. AAUW is calling on the U.S. Congress and the president to take action now. Learn more at our Fight for Fair Pay web page.
WHERE: AAUW, 1111 16th Street NW, Washington, DC
DATE: Tuesday, April 9 (rain or shine)
TIME: 4:30–7 p.m.
The American Association of University Women (AAUW) empowers women and girls through advocacy, education, philanthropy, and research. Our nonpartisan, nonprofit organization has more than 150,000 members and supporters across the United States, as well as 1,000 local branches and 700 college and university partners. Since AAUW's founding in 1881, our members have examined and taken positions on the fundamental issues of the day — educational, social, economic, and political. Learn more and join us at http://www.aauw.org.