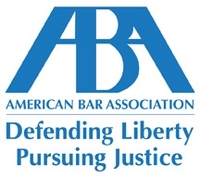 Chicago, IL (Vocus) July 17, 2008
Ensuring that military personnel get access to the courts when they are victims of injurious government conduct; expediting and otherwise improving the process of federal judicial nominations; and enhancing efforts to ban racial profiling are among the critical legal issues to be considered by the American Bar Association's policy-making House of Delegates when it meets to debate and vote on more than two dozen proposals on Aug. 11 and 12 at the Hilton New York Grand Ballroom during the association's 2008 Annual Meeting.
Among the proposals scheduled for consideration are ones that:

Reports with recommendations can be accessed here. Click on the recommendation number to read the full text and supporting report.
The 555-member House of Delegates will convene Aug. 11 from 9 a.m. – 5 p.m. and on Aug. 12 from 8:30 a.m. to 5 p.m. or the conclusion of business. The deliberative session includes members from state and local bar associations around the country, ABA affiliates and ABA entities, and is the finale of the ABA Annual Meeting. The ABA is the largest voluntary professional association in the world and a vigorous policy advocate before the federal government.
During the Annual Meeting, a press room for accredited journalists will be set up at the Hilton New York, Murray Hill Suite, 2nd floor, and will open for on-site media registration at 8 a.m. on Aug. 7. Thereafter the press room will be open daily from 8 a.m. to 6 p.m., and will close one hour after the adjournment of the House of Delegates on Aug. 12. Beginning Aug. 7 – Aug. 12, reach the press room at 212-261-6059.
Online registration for news reporters is easier than ever. To register, go abanet.org/media. Credential guidelines are at abanews.org/credentials.html.
With more than 413,000 members, the American Bar Association is the largest voluntary professional membership organization in the world. As the national voice of the legal profession, the ABA works to improve the administration of justice, promotes programs that assist lawyers and judges in their work, accredits law schools, provides continuing legal education, and works to build public understanding around the world of the importance of the rule of law.
This distribution list is a service to the news media from the American Bar Association Division for Media Relations and Communication Services. Your e-mail address will only be used within the ABA and its entities. We do not sell or rent e-mail addresses to anyone outside the ABA. To change your e-mail listing or be removed from our distribution lists, please contact the Media Relations Department at 312/988-6171 or abanews @ abanet.org.
To review our privacy statement, go to abanet.org/privacy_statement.html.
Contact: Jason Fujioka
Phone: 312/988-6128
E-Mail: fujiokaj @ staff.abanet.org
Online: abanews.org
# # #