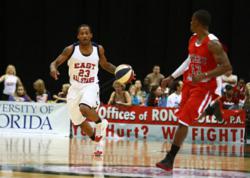 15,000 children are free from slavery today because of the Traffic Jam Campaign.
Castle Rock, CO (PRWEB) April 10, 2012
To expand its commitment to the protection of children, the American Basketball Association (ABA) is pleased to announce that it is partnering with the Traffic Jam Campaign to raise awareness and involvement in the fight against the trafficking and enslavement of children around the globe. Over 15 million children are enslaved today - often forced to work as sex slaves, child soldiers and high-risk laborers.
The Traffic Jam Campaign, with its unique approach to fundraising - Personalized Campaign Pages - will allow more than 90 franchise teams of the ABA to compete in making a difference in children's lives - both here and abroad. Each team will establish its own Campaign Page to solicit the involvement of its fans and broader market. Fans and friends of the team can, in turn, set up their own Sub-Campaign Pages to show support for their team and the Traffic Jam cause. Many of the participating ABA teams will provide incentives for their top fundraisers - including VIP experiences, tickets, merchandise, signed memorabilia and other prizes.
In conjunction with its associated anti-bullying program, BullyFree ABA - Bullies are Cowards, the ABA and its member teams will now be promoting the broad message that the taunting, bullying, abuse and exploitation of children is totally unacceptable in today's world of individual rights, values and freedoms.
Mr. Joe Newman, CEO and Commissioner of the ABA explained, "The ABA has worked hard to provide the intervention skills necessary to confront bullying proactively through shared experiences. The trafficking and exploitation of children is the ultimate form of bullying and control. The ABA is glad to now extend its involvement to make a difference in the most extreme cases of child maltreatment and endangerment."
Mr. Paul Collier, Community Development Director for the ABA, stated, "The ABA is proud to join forces with Traffic Jam as partners in combating human trafficking and anti-bullying throughout our country and world. Our partnership with Traffic Jam, along with the national appeal and popularity of the ABA, will bring into focus our commitment to improving awareness of these global issues affecting the lives of our children. Along with the worldwide successes and exposure already achieved by Traffic Jam, the ABA is partnering with Traffic Jam to create global change."
Mr. Paul Myhill, Founder & CEO of the Traffic Jam Campaign, added, "the Traffic Jam Campaign works with musicians, athletes, celebrities and other cultural influences to stop the forcing of children into brothels, militias and factories. The ABA will provide us with an additional well-respected platform as players and fans work together to "jam up" child trafficking and slavery. We are extremely pleased to be working with such a fine organization that has a demonstrated commitment to the well-being of the world's most precious resource - its children."
The ABA brand has been the second most-recognized brand in the history of basketball - behind only the NBA. The original ABA players like Dr. J (Julius Erving), George Gervin, David Thompson, Haywood, McGinnis, Hawkins, and others, are iconic legends who are as popular today as they were 40 years ago - not only in the US but globally. The ABA can be found online at http://www.abalive.com.
The Traffic Jam Campaign works in over 75 countries through more than 120 trusted front-line partners who are engaged in trafficking prevention, rescue and aftercare programs. Over 15,000 children are free today due to Traffic Jam's involvement and funding of more than 420 projects. The Traffic Jam Campaign can be found online at http://www.trafficjam.org and on Facebook at http://www.facebook.com/trafficjamorg.