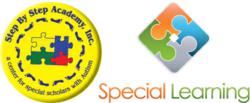 My teachers here at SBSA have taught me that I am smart and I can do anything if I just work at it." - 9-year old student at SBSA Academy
Chicago, IL (PRWEB) October 05, 2011
Special Learning, Inc., an online comprehensive Autism solutions company, today announced that it has formed a strategic partnership with Step By Step Academy (SBSA), a highly regarded Autism treatment center in Columbus, Ohio.
Autism is quickly becoming one of the most prevalent disorders affecting children. According to the Centers for Disease Control and Prevention (CDC, 2010), Autism affects 1 in 110 children in the United States alone. Various research articles estimate growth rates of 10 to 17% annually, which means Autism is reaching epidemic proportions.
While the need for effective Autism products and services continue to grow, there is a critical shortage of information, tools and therapeutic solutions available to families affected by ASD. Global standards for interventions and consistent delivery of therapies are not yet established, while the rapidly increasing number of diagnosed children is already exceeding the supply of qualified providers trained in effectively teaching critical life skills to children with ASD.
This issue of the shortage and lack of access to qualified behavior therapists and educators is the problem that Special Learning is solving with support from its exceptional network of industry partners. By partnering with SBSA and strategically leveraging their clinical expertise, Special Learning will continue to create Autism solutions firmly grounded in ABA, supported by ongoing research and clinical application.
Special Learning and SBSA are very excited about this partnership and their ability to rapidly develop ABA Solutions to positively impact the lives of people with Autism Spectrum Disorder (ASD) across the globe.
About Step by Step Academy (http://www.stepbystepacademy.org)
Step By Step Academy (SBSA) is a highly-regarded center-based, non-profit Autism treatment center located in Columbus, Ohio. Founded by Michele LaMarche, BCBA, SBSA delivers exceptional ABA therapies and services to meet the needs of the community. In addition to its Intensive Behavioral Intervention Treatment services, SBSA offers Assessment Services by a Psychologist or Licensed Social Workers, Parent Advocacy Services, Training and Workshops for parents and professionals, and Case Management and Counseling Services.
About Special Learning (http://www.special-learning.com)
Special Learning is dedicated to becoming the global leader for Autism and Applied Behavior Analysis (ABA) solutions by leveraging technology to offer every person diagnosed with Autism Spectrum Disorder (ASD) attain an abundant and fulfilling life. Through their comprehensive information and resource portal, Special Learning provides the global Autism community with a broad range of free products, tools and services. Their comprehensive product line includes ABA training & education products, iPhone Apps, web-based & downloadable tools, and professional services designed to empower parents, teachers and providers so that they can help individuals with Autism move up the skills spectrum intuitively, successfully and affordably.
###