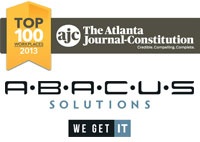 It is great to be recognized for something that we put as a top priority from the day we first opened our doors. - Patrick Hiller, Abacus Solutions CEO
Marietta, GA (PRWEB) May 02, 2013
Abacus Solutions is pleased to announce that it has been selected as one of The Atlanta Journal-Constitution Top 100 Workplaces for the second year in a row, moving up five places to Number 7 on the list for small companies. The Top 100 Workplaces Awards are based on employee surveys about job satisfaction and workplace culture. Over 1200 Atlanta-area companies participated in the surveys and based on overall scores, the Top 100 list included 50 small companies, 30 midsize companies, and 20 large companies.
As an IT Solutions, technology, and managed services provider, Abacus Solutions helps companies achieve operational efficiencies and solve business challenges. The company was founded 13 years ago by Abacus CEO Patrick Hiller and President Ken Snuggs, who say this award is especially satisfying because creating a company culture of trust and empowerment was one of their first goals.
"It is great to be recognized for something that we put as a top priority from the day we first opened our doors. Ken and I wanted to build a company that nurtured long-time careers with us, not just jobs. Our employee retention rate is very high because we spend a lot of time on our hiring process to find highly skilled team members that are also good communicators," said Hiller. "In a small company - we currently have 80 employees - you end up working with just about everyone in some capacity. People need to get along and work together to solve challenges for our clients. I think our employees also appreciate working in a positive atmosphere that recognizes and rewards hard work and results."
Abacus President, Ken Snuggs, says the same hiring matrix applies to building the Abacus Engineering Team. "We are very proud of our engineering brain trust. They are among the best in the IT industry. Our engineers work directly with clients and we specifically hire engineers who have great critical thinking skills beyond their resume and certifications and who are also good communicators," said Snuggs. "This is the kind of team you can empower to make good decisions. We keep it simple. We give our team every opportunity to continually grow their skills through training and educations and our primary expectation of them is to always do what's right for the client. This philosophy trades short term sales for long-term relationships. It's a win internally and for our clients. It's nice to know that our employees appreciate that kind of confidence in them."
The AJC Top 100 Workplace employee surveys are conducted by WorkplaceDynamics, LLP, a leading research firm on organizational health.
About Abacus Solutions:
Abacus Solutions is a premier IT solutions, technology and managed services provider based in Atlanta, GA. We bring together technology, services, and engineering expertise to simplify and improve the business operations of our clients. We specialize in Managed Solutions, Cloud services and Virtualization, Networking and Security, Storage and Archiving, Business Continuity, and Disaster Recovery. We partner with dozens of leading manufacturers and we have one of the most extensive inventories of new and refurbished gear. This allows us to design impartial technology solutions that serve the best needs of each of our diverse clients.
Visit our website, and check out our blog at http://www.abacussolutions.com/About-Us/News-Media/Blog