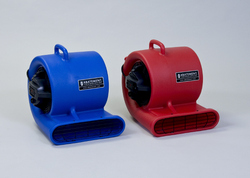 High-velocity, centrifugal air movers from Abatement Technologies dry wet areas with greater air flow.
Suwanee, Georgia (PRWEB) February 18, 2010
Abatement Technologies has announced the availability of the new high performance RAPTOR Centrifugal Air Movers for the water and flood loss remediation industry.
The lightweight (25 lbs.) RAPTOR Centrifugal Air Movers create high-speed 2,850 fpm airflow and draw less than three amps of current. Up to four air movers can be daisy-chained together on a typical 15 amp household circuit.
Innovation has always been at the forefront of Abatement's new product development. The RAPTOR's lightweight, rotational-molded polymer cabinet is strong, scuff-resistant and easy to clean. A low-profile high/off/low 3-position switch is damage-resistant and user-friendly.
The deluxe RAPTOR Air Mover model includes a dual, GFCI-protected receptacle and circuit breaker for daisy-chain operation. Both the standard and deluxe models are equipped with an attached 25-foot power cord with grounded plug and built-in cord wrap.
The RAPTOR is perfectly balanced and ergonomically designed. Up to three RAPTOR units stack and interlock securely to save storage space. RAPTOR Centrifugal Air Movers are safety-certified by Intertek Environmental Testing Laboratories (ETL) to conform with applicable UL and CAN/CSA safety standards for the U.S. and Canada.
About Abatement Technologies
Over the past 25 years, thousands of environmental remediation and disaster restoration contractors have relied on Abatement's state-of-the-art equipment and products to comply with indoor air quality standards, reduce costs and improve productivity.
Contact Abatement Technologies for introductory special pricing on the RAPTOR Centrifugal Air Movers or for more information on our technically advanced products for Remediation and Restoration contractors.
Contact:
Dave Willyard, Vice President
Abatement Technologies, Inc.
605 Satellite Blvd.
Suite 300
Suwanee, Georgia 30024
678-889-4200
http://www.abatement.com/construction-renovation/non-healthcare-products-restoration.htm
###