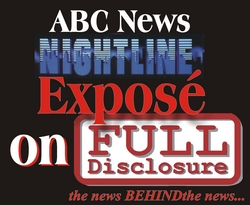 Los Angeles, CA (PRWEB) December 19, 2008
The Full Disclosure Network® presents behind the scenes footage of an ABC Nightline interview with Leslie Dutton, host of the program videotaped on Tuesday, December 16th. The ABC segment covers the ongoing controversy regarding the City of Los Angeles taking over the public access cable channels. The ABC Nightline segment will air nationwide on January 9, 2009 at 11:30 p.m. View 5 minute video News Report here: http://fulldisclosure.net/Blogs/63.php
Appeal to Attorney General:
Host Leslie Dutton tells ABC Nightline that the independent producers' have begun a campaign to enlist the California Attorney General Edmund G. Brown, Jr. to file for emergency injunctive relief to stop Time Warner Cable from shutting down 14 public access studios and channels on December 31, 2008. These public channels been serving cable subscribers and producers in Los Angeles for over 25 years. The official letters, requesting the Attorney General to intervene are available here in the attached files.
Among the groups and individuals sending letters to the Attorney General are:
Los Angeles Public Access Coalition, David R. Hernandez, President
The Caucus of Producers, Writers, Directors & the New Media
Full Disclosure Network, Leslie Dutton
PEG Access Support Groups:
alliance-announce at lists.alliancecm.org;
access-forum at lists.alliancecm.org;
Access Community Media: ACM-West at yahoogroups.com
Government Control of Public Channels:
With the apparent approval of Mayor Antonio Villaraigosa, the public cable access issue languished, without Council attention or concern, for almost two years until the Time Warner deadline approached and the Holiday Season arrived. With very little time for the public to react, only then did the City Council push through plans to consolidate the 14 public access cable channels into four channels under government control and they failed to provide for even one dedicated public channel.
After Thought:
When the public objected at the hearing, the unanimously Council approved an "after thought", verbal motion that was sent to the Budget and Finance Committee requesting they investigation into possible funding for a single public channel. With no date having been set for a hearing before the Budget & Finance Committee, the 14 channels will be gone by the time the committee ever starts researching funding sources. See complete Council file here: http://clkrep.lacity.org/onlinedocs/2006/06-2818_ca_12-03-08.pdf
Send Automated Letter to AG:
At the end of the behind the scenes video viewers are asked to send an automated letter to the Attorney General using a link below the video screen on the webpage. The letter urges the AG to file for injunctive relief under the Business & Professions code 17200, Sec. 3 to prevent Time Warner Cable from shutting down the City's public access channels and studios, until such time as the City has replaced the facilities.
The five minute video report is also featured on the Full Disclosure Network® YouTube Channel at http://www.youtube.com/FullDisclosureNetwrk
# # #