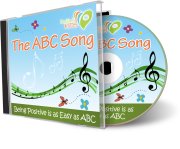 Positively Kids is doing much more than just making catchy songs for kids- they are starting a movement that is based on valuing children and helping them to see their self worth and true potential. via Kari Robinson Mommy to Elodie blog
San Diego, Ca (PRWEB) August 21, 2012
Positively Kids does it again with their newest release of "The ABC song". The ABC song will teach children "I am affirmations" through the alphabet. Kids will learn that being positive is as easy as ABC. Empowering positive messages are a great way to entertain kids in the car as they go back to school this year. The ABC song was designed to have children repeat back the "I am affirmations" as they are being sung so it will be easy for kids to follow and happily sing along.
Popular mom blogger, and former Preschool Teacher, Kari of Mommy to Elodie blog, said "The new Positively Kids 'ABC Affirmation' song is an uplifting and catchy tune that is sure to make kids feel positively about themselves! I encourage parents and educators of young children to choose music with empowering messages for children, like this song. In no time, your child will be learning about the alphabet while building up their self esteem by singing along with the song's simple but powerful affirmations."
Positively Kids is the brain child of founder Stacey Crumrine. After having children, she realized the biggest thing to teach her kids was healthy coping skills. She was quoted recently saying "I wanted something for my children to teach them positive thinking and healthy coping skills at a young age. The younger we can learn good habits, the easier it is to make it a lifetime skill. The world has alot of unhealthy coping going on, depression, suicide, drinking, drugs, bullying, emotional eating., etc. And by teaching them healthy coping with positive words and actions, kids are going to learn early on the healthy way to deal with things that come their way"
One of the founders of Kids for Peace, Jill McManigal endorsed The ABC Song, by saying "This toe-tapping, smile-inspiring, life-affirming song is sure to brighten your day and uplift our world. I love it!"
Caregiver Renee Oberhart said " I like how it builds young children's vocabulary of positive words. I bet after listening to this song, kids will be declaring themselves as brave, clever, or any of the other words in this song!"
Preschool teacher Kris Eick Bowers at Headstart said "Love, Love, Love The ABC Song!!! Great letter/word association, vocabulary building, tune, positive messages, EVERYTHING!!! Awesome! "
Kari Robinson also states in her blog, Mommy to Elodie "Positively Kids is doing much more than just making catchy songs for kids- they are starting a movement that is based on valuing children and helping them to see their self worth and true potential."
Last year, Positively Kids released their award winning music album Captain Positive: Be Happy. With the help of contributors including prominent neuropsychologists, authors, family coaches, parents, educators and more, Positively Kids has created a culture that permeates all of its entertaining and informative programs and materials. And, although everyone at Positively Kids realizes that the world is not something they can completely control, they do believe that any child, no matter their age, attitude or circumstance, can be taught how to:
*Change the world by acting positively
*Think with positive self-esteem and confidence
*Grow their minds and open up to the opportunities that are presented to them
*Be inspired by positive beliefs
*Feel healthy inside and out
*Have confidence in their decisions
*Help others see the benefit of positive thinking
*Be motivated off of the good, not the bad
*How to have a positive outlook and see the possibilities in life
To learn more about Positively Kids visit their website at , visit:http://www.positivelykids.com.
To buy the new ABC Song visit ------ http://www.cdbaby.com/cd/positivelykids
Full review of The ABC Song on Mommy to Elodie's blog http://mommytoelodie.tumblr.com/post/28679133854/positively-kids-abc-affirmation-song-review