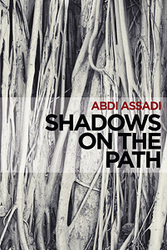 Shadows on the Path offers great insight into the many ways that we sabotage ourselves and it is equally clear on how to get ourselves back on course.
New York, NY (PRWEB) July 11, 2010
Abdi Assadi, a highly-skilled New York City acupuncturist and healer for the last 25 years has had a wealth of first-hand experience in helping people of all walks with their issues - whether physical, emotional, mental, energetic, psychic, or spiritual. His 'baptism by fire' came with the AIDS epidemic in the 80's before the Western medical community had the tools necessary to deal with this merciless disease. Learning on-the-fly, Abdi assisted many during their transition from lives full of vitality and promise to agonizing and brutally drawn-out deaths – made all the worse by the social stigmas of the time.
Drawing from his significant personal experience and his observations in a clinical setting where he skillfully holds healing space for his clients, Abdi has seen much and can help us more clearly see our own 'blind spots'. His new book, Shadows on the Path: Revelations and Pitfalls on the Spiritual Journey is a powerful study for those interested in understanding that we are all unconscious to differing degrees – and how to begin the extremely difficult process of really waking up. Abdi clearly shows us that our experiences, suffering, and questions are not unique – even if the path to the answers is. And when the answers continue to elude us, Abdi reminds us that the most powerful space to be in is that of 'not knowing is knowing'.
This isn't another "Forty Days or Ten Steps to a New You" book, rather it's a beautiful and painful lesson that we constantly dupe ourselves by creating these highly complex stories that serve to hide vital portions of ourselves – pieces that we will do almost anything to avoid facing. But we must face and accept these shadow parts of ourselves that reside firmly in our unconscious, in order to become whole. As the real "spiritual path" is the path to our true selves.
Shadows on the Path
Hiding & Seeking on the Spiritual Journey
In a culture where spirituality has become a commodity, it can be difficult to differentiate between what helps us awaken and what keeps us asleep. It is a common misconception for spirituality to be viewed as movement toward the light instead of delving into, identifying, and integrating repressed aspects of our psyche. In this workshop, we examine this often overlooked aspect of spiritual attainment: our shadow.
Guided by spiritual counselor Abdi Assadi, we examine some of the ways we can skip doing deep spiritual work by hiding our shadow behind spiritual practices and spirituality in general. Through guided meditations, lecture, experiential exercises, group discussion, and question-and-answer sessions, we explore the original woundings that bring us to the spiritual path, unhealthy teacher-student relationships, and addictive behaviors masquerading as spiritual practice. We also discover how to use personal relationships as powerful vehicles for spiritual transformation and discover helplessness and surrender as tools for spiritual growth.
###