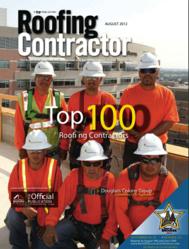 "Commitment to customer service, going above and beyond, and helping property owners recover after catastrophic events is our mission. We are very proud of our success and leadership status in the industry," says Abelard Co-
Brooklyn Park, MN (PRWEB) August 22, 2012
Abelard Construction won the 2012 Award from Roofing Contractor Magazine for "Top 30 Roofing Contractors" in the nation. Roofing Contractor Magazine's Top 100 list contains companies that have proven that they know what it takes to succeed from year to year.
"We're really excited to be awarded the 2012 Top 30 tier of the Top 100 construction companies in the nation. There is a lot of competition out there in this industry, and we strive to remain the best in the business," says Brian Southard, Co-Founder of Abelard Construction.
In spite of industry trends, the economic downturn and the flood of more and more roofing companies coming to the market, Abelard has grown sales and offices this year by remaining ahead of the game and utilizing best practices in the industry. Abelard Construction remains cutting edge in a highly competitive industry by hiring the best in the business, their team of highly trained insurance claim specialists to get the job done right. Abelard excels by using the proprietary Xactimate software program, the same software used by insurance companies, making the claims process fast and efficient. Abelard inspectors personally meet with property owners and insurance adjusters onsite, negotiate claims, and manage all storm related repairs with quality workmanship.
"Commitment to customer service, going above and beyond, and helping property owners recover after catastrophic events is our mission and has been for over 15 years. We are very proud of our success and leadership status in the industry," says Abelard Co-Founder Anthony Delmedico.
About Abelard Construction
Abelard Construction is rated by customers as the best in the business. Abelard Construction is the national leader in the residential and commercial restoration and construction industry. With over 15 years of experience as a full-service general contractor in 17 states throughout the nation, Abelard Construction provides a free comprehensive property inspection covering roof, siding, gutters, paint, window damage and works with the insurance claim adjustor to get property owners the repairs they need. As a licensed general contractor, we are able to respond to your unique construction and restoration needs with speed and flexibility. Whether you have a residential roofing emergency, require water, fire, smoke or mold damage restoration or need general contractor services for general maintenance on commercial properties, we are poised to help. Visit http://www.abelardconstruction.com or call 1.888.260.ROOF. Click here for more information on the Storm Inspection Process: http://youtu.be/LPsGTEi3ghQ
About Roofing Contractor Magazine
Roofing Contractor is the premier industry publication written specifically for the contractor. An independent magazine, Roofing Contractor's bold, concise and timely editorial addresses issues critical to contractors and provides the information and insights that help contractors succeed. Learn more at http://www.roofingcontractor.com