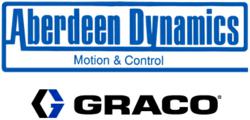 Tulsa, OK (PRWEB) August 23, 2012
Under a new partnership with Graco, Inc., Aberdeen Dynamics now offers on-road, off-road and industrial automatic lubrication solutions. Automated lubrication provides a far superior solution to traditional manual methods by dispensing the ideal amount of lubrication on a continuous basis to all critical equipment components. Increased productivity is achieved by reduced equipment downtime for maintenance and repairs as well as decreased man-hours spent on manual lubrication tasks. Additionally, component life is extended due to significantly diminished wear and tear.
"We're very excited about this new partnership with Graco," says Joe Martin, President of Aberdeen Dynamics. "Equipment reliability, efficiency and ease of maintenance are extremely important to our customers and Graco's lubrication systems allow us to improve on those characteristics."
About Aberdeen Dynamics
Aberdeen Dynamics is a full-service motion and control solutions provider based in Tulsa, Oklahoma. With decades of experience in fluid power design, pneumatic equipment, and hydraulic control systems, Aberdeen is a trusted custom hydraulic equipment provider for the oil and gas, rigging and recovery, power generation, process and pipeline, manufacturing and construction industries. Aberdeen specializes in designing and building custom hydraulic power units, hydraulic valve actuators and hydraulic winch packages. For additional information about Aberdeen Dynamics, please visit: http://www.aberdeendynamics.com.
About Graco Inc.
Graco Inc. supplies technology and expertise for the management of fluids in both industrial and commercial applications. It designs, manufactures and markets systems and equipment to move, measure, control, dispense and spray fluid materials. A recognized leader in its specialties, Minneapolis-based Graco serves customers around the world in the manufacturing, processing, construction and maintenance industries. For additional information about Graco Inc., please visit: http://www.graco.com.