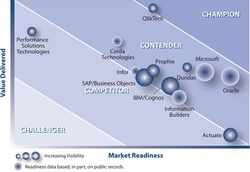 We are pleased to appoint the first Champion in Aberdeen's new AXIS reports, the only technology solution provider assessment tool that is truly customer-centric
Radnor, PA (PRWEB) February 10, 2009
QlikTech, the world's fastest-growing Business Intelligence (BI) software vendor, today announced it is the sole "Champion" in the 2009 Aberdeen AXIS for BI/Performance Management report. A Champion is defined as a vendor that has demonstrated superior proficiency in delivering both real value as well as the ability to serve and support its installed user base. Twelve BI/Performance Management software solution providers, including Business Objects (SAP), Cognos (IBM), Hyperion (Oracle), and Microsoft, were evaluated based on their ability to provide customers with greater visibility into performance drivers and the ability to better manage decisions and actions that affect company performance.
"Aberdeen's AXIS methodology places emphasis of appointing a Champion where it belongs -- in the hands of the people who actually use the product every day. We know that QlikView has generated a passionate user base, and Aberdeen's customer-centric perspective vividly demonstrates how quickly customers gain value from QlikView and how end users love using it," said Anthony Deighton, Senior Vice President of Products for QlikTech.
Deighton continues, "With QlikView's unique in-memory, associative analysis approach, we are moving the power of business intelligence from IT to those who are influencing performance management on a daily basis - from the board room to the shop floor. While traditional BI systems often require users to wait for IT to run operational reports, people using QlikView can make timely decisions on their own. It's this type of democratization of data that has built our loyal customer base to over 10,000 strong."
As stated in the AXIS report, "QlikTech customers have consistently reported high praise and satisfaction with the company and its products, and are most likely to have achieved value from the purchase of the software for performance management projects. The software interface is known for its intuitiveness and this means that end-users are likely to adapt to its use quickly."
"We are pleased to appoint the first Champion in Aberdeen's new AXIS reports, the only technology solution provider assessment tool that is truly customer-centric," according to David Hatch, Vice President/Principal Analyst, Aberdeen Group. "In today's challenging business environment, performance management is the cornerstone of successful business analysis. The fact that so many QlikTech customers could demonstrate results so quickly made their performance in this area exceptional."
About QlikTech
QlikTech is the business answers company. Its flagship product, QlikView, enables organizations of all sizes to unlock the value of their data to make better decisions that improve business results. Unlike traditional BI solutions, QlikView delivers immediate value with payback measured in days or weeks rather than months, years, or not at all. Through QlikView's disruptive, in-memory associative approach, business users have experienced unprecedented success and satisfaction. QlikTech is the only company in this market that offers a 30-day money-back guarantee. QlikTech has more than 10,500 customers in 92 countries and over 500 partners worldwide. For more information, please visit http://www.qlikview.com.
QlikTech and QlikView are trademarks or registered trademarks of QlikTech International AB. Other company names, product names and company logos mentioned herein are the trademarks, or registered trademarks of their respective owners.
# # #