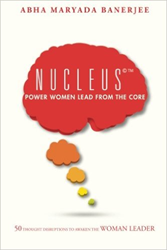 JAKARTA, Indonesia (PRWEB) April 04, 2016
The author Abha Maryada Banerjee has written "Nucleus©™ Power Women Lead From The Core" (published by Partridge India), a highly ingenious book with the overall theme of creating a mental environment to bring women back to their strengths, back to themselves and build their capacity to enhance their lives by mastering personal leadership.
"Nucleus©™ Power Women Lead From The Core" is the first book on leadership for women out of Asia and India. Presented as a methodology through which the reader can pave a path to lead with their most empowered self, this DIY format book works like a growth companion for the reader. The heroine of the book is every woman who wishes to embrace leadership as a matter of choice. Supported by simple illustrations, the book works both for personal development and in the corporate sector. The author Abha Maryada Banerjee found iconoclast connections between four different disciplines—law, leadership, personal development and universal natural laws—to re-define women's leadership.
"A call to arms to empower oneself in order to begin to effect change throughout the world."
-Kirkus Reviews
This book is a strategic tool to strengthen women mentally and emotionally, not from the gender perspective but from the socio-human perspective. A catalyst between knowledge and real life execution, it offers practical tools for women's growth that bridge the gap between theory and practice—things they can begin to do today.
"Nucleus©™ Power Women Lead From The Core"
By Abha Maryada Banerjee
Hardcover | 6x9in | 414 pages | ISBN 9781482841831
Softcover | 6x9in | 414 pages | ISBN 9781482841824
E-Book | 414 pages | ISBN 9781482841817
Available at Amazon and Barnes & Noble
About the Author
Abha Maryada Banerjee is India's first woman motivational speaker of international acclaim, Top Ten Life, Business and Success Coaches in Asia Pacific. She has been the peak performance/mental strength coach for Indian olympians. She is a sought-after speaker across the globe; she has coached and consulted CEOs, media personalities, sports stars and businesses and has been closely associated with the spiritual aspect of leadership. Fondly called Asian Oprah and the Asian Woman Motivator, she is gifted with the unique ability to get people to take action and professes personal mastery for individuals and emotional fitness for corporate for achieving human capital excellence.
Partridge India, is a leading provider of book publishing, marketing, and bookselling services for authors in India, all priced appropriately for the Indian market. Committed to providing the highest level of customer service, Partridge India assigns each author personal publishing and marketing consultants who provide guidance throughout the process. Partridge India shares its headquarters with Penguin Books India in New Delhi. For more information or to publish a book, visit http://www.partridgepublishing.com/india or call 000.800.10062.62. For the latest, follow @PartridgeIndia on Twitter.