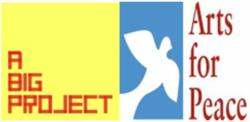 Our places of agreement might not represent a final answer to some of our pressing global problems, but they could represent a starting point.
NYC, NY (PRWEB) September 19, 2012
A Big Project, in partnership with Arts for Peace, has taken the first step in instigating a global conversation to gain clarity on what our regional differences are AND where we all agree around the world. At the event, project leaders will call on artists from every region to create art and music based on the places of agreement.
In the first month of a four-month long survey process, people from 89 countries have answered the four survey questions. People have been taking the survey individually and in groups through "Sweet Spot" survey parties (which have already been held in India, France, Uganda, Sweden, USA, Armenia and other areas). More parties are expected in the coming weeks.
The project started in January 2012 with a group of 30 international organizers (Fire-starters) from 18 countries. In March, the number of countries where people were supporting the effort grew to 40. By June the number had grown to 67. Before the survey opened in August, the number stood at 86. At today's count, survey responses have exceeded the number of countries where there was a presence.
The survey will remain open until December and can be taken at http://www.abigproject.org/myanswers. Final results from the survey, in addition to a livestream feed to all of the global art and music created based on the common answers, will be shared on December 20, 2012.
Preliminary results of the survey will be announced on the International Day of Peace
Friday, September 21st
2pm
Tillman Chapel, United Nations Church Center
777 United Nations Plaza (44th and 1st Avenue)
The event will be broadcasted live at: https://new.livestream.com/accounts/1486018/events/1560199
"This project was started based on a hunch… that if everyday people all over the world got together to talk, we could figure out some places where we all agree. Those places of agreement might not represent a final answer to some of our pressing global problems, but they could represent a starting point." – Dara Barlin, A Big Project
"We live in a connected world… explosive situations are happening because of the divisions that we create. A big project can be a way to put human dignity and brotherhood/sisterhood above all that and find our commonalities." -Mona Rabie, Founder of Mabaad (Seeds for Peace), Cairo, Egypt.
The preliminary survey results focus on people's responses to the following four questions:
If the world as it currently exists were to radically shift tomorrow, and we had the chance to recreate the world…
1. What would you NOT want to continue from this world?
2. What WOULD you want to continue from this world?
3. What would people need to do differently now to get to that better world?
4. What is one thing you will commit to doing to get to that better world?
After the preliminary results are announced at the UN Church Center Sept 21st, the crowd will be led in the song "Imagine" played by Tom "Lennon" Raider (a John Lennon look-alike). Additionally, Arts for Peace Good Will Ambassador Jordan Lorrius will be singing the same song to hundreds of students in the U.N.'s General Assembly at 12pm. Students will be carrying signs indicating how they intend to make the world a better place.
About A Big Project
A Big Project is an all-volunteer effort of Fire-starters (organizers) from every region looking to find out where we all agree – and sharing the news in ways that will open people's hearts. http://www.abigproject.org
About Arts for Peace
Arts for Peace is 501 (c) (3) charity that seeks to mobilize the arts community in support of peace-building. http://www.unafp.org