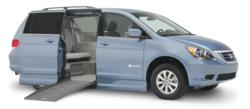 (Vocus/PRWEB) March 17, 2011
Ability Center, an innovative solutions provider for those with physical disabilities, has today announced the availability of industry-best handicap vans and mobility equipment for their customers. Ability Center prides themselves on offering the highest quality mobility solutions possible to meet their customers' exact needs.
Ability Center offers a full range of new handicap vans, including the Honda Odyssey, one of the most preferred models on the market. The Odyssey is outfitted with VMI's Northstar conversion, which features some of the most luxurious yet functional components available.
All Northstar wheelchair vans include the PowerKneel feature, which lowers the rear of the van to the height of the rear axle. This makes it far simpler for those in wheelchairs to get into and out of the van, via the included ramp. However, for those who have different needs, these wheelchair vans can be outfitted with a variety of different wheelchair lifts, as well as other mobility equipment.
Customers will also find that Ability Center offers a wealth of other equipment and solutions for their needs. For instance, the company provides access to mobility scooters for those who require them, and they also offer driving aids like hand controls and other solutions to remove all barriers from their customers' lives.
Ability Center offers a wide range of the top brands in the mobility industry, as well. Customers can expect to find brands like Braun Ability and Bruno, as well as VMI and a range of wheelchair vans from top automakers in the industry. Ability Center provides a single source for all mobility needs, and any customer will find precisely what they need with this innovative, dedicated provider.
To find out more about how you can benefit from one of these new wheelchair vans, visit http://www.AbilityCenter.com.
About Ability Center: Ability Center is dedicated to providing those with physical disabilities the advice, information and help they require to get a mobility solution that works. Their innovative offerings ensure that anyone can find the perfect mixture of price and features for their specific situation, and their deep commitment to service ensures that all customers receive the best possible care.
###