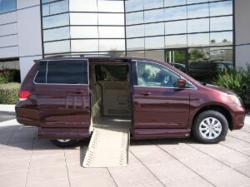 (Vocus/PRWEB) April 07, 2011
Ability Center, a leading provider of top quality solutions for individual with physical handicaps, has today announced they carry a full line of top automotive brands in their selection of wheelchair vans.
Handicap vans offer tools, equipment and solutions that provide vital mobility for those who have physical disabilities. Ability Center prides themselves on bringing their customers the best of the best. Currently, the company offers their customers access to wheelchair vans from companies like Dodge, Chrysler, Honda and Toyota.
Each of these handicap vans has been fully outfitted with quality conversion systems. For instance, the Honda Odyssey vans offer conversions from Vantage Mobility International, one of the most trusted names in the industry. Ability Center also offers wheelchair vans with conversions from BraunAbility and Viewpoint Mobility, as well.
Wheelchair van conversion offers unique advantages like low entrance height ramps, transfer seats with single-touch controls, removable seat bases and customizable floor plans. In addition, most also feature a lowering system that drops the vehicle's height down to the rear axle, making it far simpler for those with physical disabilities to enter and exit.
Of course, Ability Center also offers a full line of wheelchair lifts, including innovative designs from BraunAbility and VMI. Customers can customize wheelchair vans to meet their specific needs and ensure that they have the mobility solution they require to enjoy the best independence possible.
Ability Center is committed to providing their customers with access to solutions that fit their lives and that offer industry-best performance and durability. To follow through with this commitment, the company employs Certified Mobility Technicians who can offer expert advice about systems, components and equipment to tailor a wheelchair van to any type of need.
To find out more about how you can benefit from one of these new wheelchair vans, visit http://www.AbilityCenter.com.
About Ability Center: Ability Center is dedicated to providing those with physical disabilities the advice, information and help they require to get a mobility solution that works. Their innovative offerings ensure that anyone can find the perfect mixture of price and features for their specific situation, and their deep commitment to service ensures that all customers receive the best possible care.
# # #