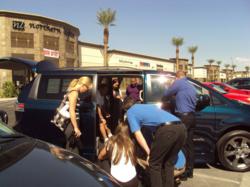 We always like to contribute towards educating new students about our products and services.
Las Vegas, NV (PRWEB) October 18, 2011
Ability Center Las Vegas, a recognized leader in providing wheelchair vans and lifts to individuals with physical handicaps, has welcomed students from Touro University to a tour of their entire facility.
Touro University is well known for providing quality education in osteopathic medicine. A group of 30 students studying to become physical therapists took part in the tour, which was a great success. The students were broken up into three separate groups to make things more manageable. Scott Santos showed the tour groups the wheelchair vans, while Joe Spallino covered vehicle wheelchair lifts, stair lifts and more. Tyler Donat from Invacare highlighted wheelchairs and cushions.
The tour was an incredible success, and the students learned a great deal about real world applications of technology for individuals with physical handicaps. In, fact, the tour was such a success that Ability Center has decided to continue it each semester for a different group of students from Touro University.
Scott Santos, Ability Center Las Vegas says, "We always like to contribute towards educating new students about our products and services. This will help them as they begin in the workforce to have the knowledge of the products available in the community. We plan on hosting this event with each new set of students going through the program at Touro University."
Tricia Catalino, Assistant Professor at Touro University sent this note to Ability Center regarding the tour, "Thank you for the excellent tour and education session this morning. The experience was even more than what I had hoped for and I do look forward to the next round of students to take part in this experience. The feedback from the students was excellent and I have already passed your information along to our faculty who cover adult rehabilitation. Your services allow people with disabilities to participate in the activities they choose in the environments they want. Thank you for this! I know the students appreciated this too."
To find out more about what Ability Center can do for your mobility needs or to peruse their selection of wheelchair accessible vehicles, visit the company at http://www.AbilityCenter.com.
About Ability Center: Ability Center was founded in 1994, with just a few technicians. Since that time, the company has grown to more than 70 professionals in more than six locations across the US. Today, Ability Center provides benefits for more than 10,000 people with mobility challenges per year, offering compassion, knowledge and understanding.
###