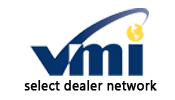 (PRWEB) December 19, 2011
Ability Center has announced they have joined the VMI SDN (Select Dealer Network), to take advantage of the powerful network built by VMI through Mobility Sales.com.
The Select Dealer Network is an innovative initiative designed to help VMI dealerships pool their resources and create a dominant website through which customers can reach each dealership in the network. The domain chosen for this is MobilitySales.com, a site with a proven history and reputation in the mobility business.
Through MobilitySales.com, Ability Center will receive a defined marketing territory for selling handicap accessible vehicles and mobility products. This allows more efficient spending of Internet marketing funds, as well as allowing dealerships to get their message in front of a new audience.
In addition to greater marketing power and a significantly increased online existence, Ability Center receives full training in managing Internet buyer leads, as well as how to track leads through the efficient allotment system.
The Select Dealer Network has been thriving in a short time – founded in 2008, the SDN has helped to bring in significantly higher numbers of buying customers than what any participating dealership experienced prior to its formation.
The SDN allows participating mobility dealers to build mutual insight into business issues, as well as strengthen relationships within the mobility industry. Dealers are also able to enjoy a strong voice within VMI (Vantage Mobility International), as well as open, honest dialogue within the network.
Ability Center's mission is to be recognized as the Southwest's preferred provider of the highest quality mobility equipment, mobility products, wheelchair vans, handicap accessible vehicles, and service for the physically disabled. Their handicap accessible vehicle conversion solutions and trusted, professional advice enable clients to lead more active and independent lifestyles. Ability Center is committed to greater freedom through accessibility with locations in Arizona, California, and Nevada.
Ability Center is very excited about being a member of the Select Dealer Network, and looks forward to a mutually beneficial relationship with all dealers.
About Ability Center: Ability Center was founded in 1994, with just a few technicians. Since that time, the company has grown to more than 70 professionals in more than six locations across the US. Today, Ability Center provides benefits for more than 10,000 people with mobility challenges per year, offering compassion, knowledge and understanding.
###