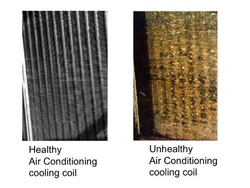 "You are only as healthy as the air you breathe."
Sterling, VA (PRWEB) May 14, 2010
April brings us warm weather, sweet breezes, beautiful flowers, and for an estimated 40 million Americans, the onset of seasonal allergies. For those of us who suffer from allergies, AbleAir-1 in Northern Virginia offers these tips to help make it through another pollen season.
1. Clean and Maintain Your Air Conditioning system
If you are a seasonal allergy sufferer then you probably already understand the importance of a good air conditioning system. Air-conditioning helps keep humidity low, the allergy sufferer cool, and can assist in filtering air that flows through the home.
However, even the best air conditioning system can hurt allergy sufferers if it is not cleaned and maintained. One preventive measure that is often overlooked is the regular cleaning or replacement of your HVAC filters. It is easy to forget about them but all the air in your home routinely circulates through them. If you want to keep the amount of airborne allergens and dust to a minimum be sure to clean your filters monthly and consider changing them every six months to a year. A clean filter is the first line of defense in your home. Too busy to maintain your system? AbleAir-1 offers maintenance agreements so that you don't need to do the dirty work. Regular maintenance will also extend the life of your AC system.
2. Consider Installing an Indoor Air Cleaning System
When Mother Nature fills the great outdoors with pollen, we need our homes to be safe places where we can retreat from the suffering of seasonal allergies. However, our homes are not always safe havens. The EPA recently listed Indoor Air Quality (IAQ) as one of the top 5 most dangerous environmental public health risks. Pollen enters our home on shoes, clothing, and pets. Humidity and cooking can lead to unhealthy moisture and mold build-up. For allergy sufferers, investing in a good air filtering or air cleaning system can make life much more healthy and enjoyable. The best models can actually bolt into the air intake or outlet of your central heating and cooling unit. AbleAir-1 recommends Central Air Cleaners that remove dust, dirt, pollen, mold, bacteria, allergens such as pollen, and other contaminants that are often circulated throughout your home.
3. Control the Humidity
During warmer weather, it is important to keep our homes dry and cool to prevent moisture build-up and the possibility of mold and dust mites. Mold spores are one of the most common indoor allergens, and they can be dangerous and even fatal. According to the Allergy Relief Center, homes should have less than 40% humidity to deter the growth of mold. Central dehumidifiers and other mold-control methods such as ultraviolet systems can solve your home's humidity problems and help your air conditioning system work more efficiently.
4. Make Easy Changes to Your Routine
Making some easy changes to your daily routine can significantly cut down on your allergy suffering. Here are some tips on making your days a little happier:

Run the A/C in your car. On days that walking outside makes you start sneezing and wheezing run the A/C in your car to prevent the circulation of all those dust and pollen clouds in and out of open windows on the car.
Weekly cleaning routine. Keep your house clean! Damp-mop wood or linoleum flooring and vacuum carpeting. Use a vacuum cleaner with a small-particle or a high-efficiency particulate air (HEPA) filter. Use a damp cloth to clean other surfaces, including the tops of doors, windowsills and window frames. If you have severe allergies, wear a dust mask while cleaning.
Change the time or location of your exercise routine. Avoid exercising in the early morning between the hours of 5 and 10 since that's when pollen is usually emitted. Nighttime is even better, when the pollen has settled out of the air and onto the ground. Exercise indoors whenever possible or find a place that is somewhat removed from green vegetation.
Monitor what comes into your home. Never wear your shoes in your house. The pollen sticks to your shoes and you will spread pollen throughout your house. Change your clothes if you have been outside for a longer period of time. Put dirty laundry into a sealed container or hamper. Wipe off your pets with a damp rag before they come into your house. Hang your laundry to dry inside of your house. Drying clothing and sheets outside will gather pollen, making seasonal allergy symptoms worse.
We hope these tips help you enjoy your spring! For more information on Air Conditioning systems, Indoor Air Cleaners, and Dehumidifiers, please contact AbleAir-1 at (703) 996-8680 or by email at info(at)ableair1(dot)com.
# # #