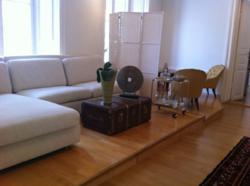 "We are excited to finally open the mini Loung to the public and offer ABLE Concept services to our members," Julie & Fredrik.
Stockholm, Sweden (PRWEB) September 14, 2012
This Thursday September 14th marks the grand opening of the ABLE lounge, a new concept in the health and wellness industry that provides a new approach to beauty and body awareness, combined with spirituality and a balanced life approach. The center, which is located in Sweden, is the creation of skin care guru Julie Lindh, who is the innovator behind the 4-step Skin Fitness skin care process and product line, and author/psychologist Fredrik Bengtsson, the founder of another life center and consulting firm in Sweden.
ABLE will consist of a physical as well as a virtual lounge exclusively for members. The lounge will provide a serene atmosphere where members can de-stress from life's day to day challenges, and receive support from industry experts and life coaches. The ABLE lounge will offer resources and education in the form of workshops, seminars, classes, retreats, special events and other group activities to connect health and wellness experts and like-minded businesses and entrepreneurs with the individuals that will most benefit from them.
The online ABLE community will have a members-facing side and an expert section. The website will offer similar benefits to the physical location and will cater to international clients interested in expert-led health, beauty, body and wellness web-i-nars as well as features like Skype life coaching, local monthly activity calendars, blogs and special promotions. The site is offering free membership until the end of the month, at which time it will be a members-only paid access plan.
The Sweden-based lounge is in Old Town, located within walking distance to Stockholm Palace at Järntorget 78, 2tr, 111 29, Stockholm. To find out more about the ABLE lounge, call +46 (0)8 22 40 40, or to sign-up for a complimentary online membership, visit http://www.ablelounge.com/index.html.
About Fredrik Bengtsson
Fredrik Bengtsson is a psychologist, organizational consultant and author. He is the founder of Haga Life Centre Ltd. and has several decades of experience in the health, wellness and lifestyle industries. Bengtsson is the author of four books on the topics of society, working life and human health in the Western world over the past decade.
About Julie Lindh
A trusted skincare expert and licensed aesthetician who has been working with clients to achieve healthy glowing skin for more than 15 years, Julie specializes in an integrated approach to beauty and skincare. Fueled by a desire to find alternatives to Botox and plastic surgery, Julie developed her four-phased skincare approach, targeting all layers of the skin to improve collagen levels, reduce deep wrinkles and restore skin's natural balance. Skin Fitness uses a combination of professionally applied treatments, nutrient-rich products and facial muscle fitness to provide remarkable long-term results.
Julie has been nicknamed the "healer" and "a personal trainer for the skin" and is considered to be a true innovator and pioneer in the industry. Her services have been sought after by high-end spas, celebrities and beauty editors around the world. She also travels the world to cater to clientele, including A-list celebrities, socialites and high-end day spas.